1992 baseball team reunites
The 1992 HHS baseball team was one of the most successful teams in HHS baseball history. After becoming district champions, tournament champions and then the regional runner-up, the team lost in the state championship finals by one run in extra innings.
One of two starting pitchers for the team was Eric Parker, who went on to play at JMU, UVA and then the minor leagues for one year. Parker believes that the successes of the year before 1992 helped to propel the team into its record 1992 season.
"[I remember] when we won districts my junior year and beat TA. [There was a] bad hop single, and I'll never forget the bounce. Seeing us score and beat them in front of 900 something people at the game, that sent us to regionals and really helped catapult us into the '92 year," Parker said.
25 years after that fateful season, members of the team reunited at the Streaks baseball game against Broadway.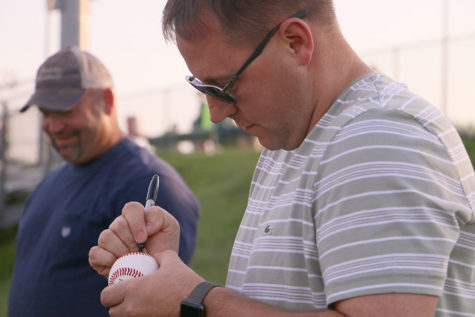 Although not all members of the team were able to attend, former head coach Jack Hale thinks that for those that were there, it was a chance to be recognized- something that did not happen as much as Hale would have liked in 1992.
"Part of the reason [they were not recognized was that] it was the end of the year and our seniors actually left the game for the yearly beach trip that the seniors have. So we were practically out of school and they never really got recognized for their accomplishments," Hale said.
Besides just recognition, though, Hale also enjoyed the time he was able to spend with his old players.
"It's just a chance to tell old stories and laugh about it now. Now that they're forty some years old, I can be a little more relaxed around them," Hale said.
Part of the reason the 1992 team was able to do so well in the regular season and the postseason was due to their pitchers. Both Courtland Rodamer and Eric Parker were better than average high school pitchers according to Hale. Unfortunately, this could not keep them from a close loss at states.
"It was obviously disappointing when we lost, but we were there. A lot of other teams- Orange, and Poquoson and some others- would have loved to have been where we were," Hale said.
In fact, the 1992 Streaks beat both Poquoson and Orange on a road run during the postseason. At one of their away games, this one at Orange, the Streaks had an omen that boded well for their success.
"Before every game they used to play this song: Wooly Bully. We went to Orange, and between innings people would play songs. Orange played that song. It just relaxed the guys and they started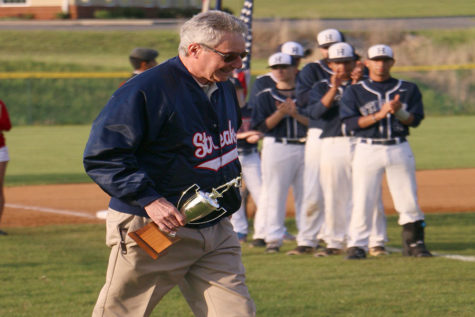 smiling. We knew that it was our night if we went to the other team and they played our favorite song," Hale said.
After high school, many players from the team went on to play baseball at the collegiate level and beyond. Many of the players moved out of Harrisonburg, but some still remain. Parker, who now lives in Columbus, OH, was disappointed not to be able to see catcher Rick Dwyer at the reunion. Parker himself played two years at UVA, two at JMU and one in the minors, but he sees his high school experience as unique.
"The difference is in high school… it was something that we grew together going through. [There are] still memories that I haven't forgotten. As you go to college, obviously it's a different level and then there's jobs on the line [in the minor leagues] and everything involved. You've got guys from all over the place. So you still have good teams, but when you grow up with the guys it's a different atmosphere and one you can't replicate," Parker said. "The whole experience, you know. It's the bus rides. Like I said, it's the guys you grew up with. A lot of us were 8th graders when we started on JV with coach Glick. Seeing it all come together and having that great run [in '92 was great]," Parker said.