2017 Biotechnology Symposium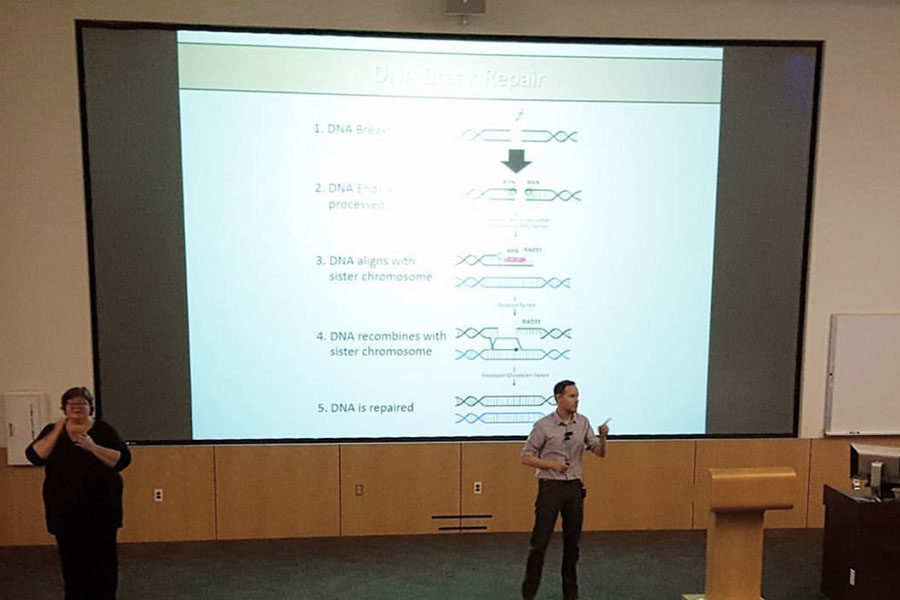 Students from various high schools gathered at James Madison University for the annual Biotech Symposium yesterday. These high schools included Turner Ashby, Broadway, Eastern Mennonite, Monticello, Harrisonburg and Albemarle. The Biotech Symposium, first introduced by STEM co-director Myron Blosser, is a day-long event consisting of labs, a keynote speaker and a seminar. This year's keynote speaker was Dr. Derek Jantz, co-founder of Precision Biosciences, a company based on the genetic modification of DNA. His company is working on various projects such as heat resistant grass and cures for cancer, specifically Leukemia.
Among the students from HHS attending was junior Ashton Landes. Landes has attended previous Symposiums to widen his scientific view.
"Dr. Jantz was interesting because he talked about aspects of science I never knew were possible. My parents are close minded when it comes to new discoveries and I am trying to become educated and different," Landes said.
After the keynote speaker, students began to work on their labs for the day. The labs were administered by various professors and biotech scientists from Virginia Tech and James Madison University and involved DNA and protein electrophoresis.
After labs, students filed into the auditorium to listen to the last event of the day, the seminar. Dr. Shihoko Kojima, fellow and assistant professor at the Biocomplexity Institute of Virginia Tech talked about circadian rhythms and molecular clocks.
The 2017 Biotech Symposium possessed the goal of educating students what was happening in the scientific community today in current time. Next year, the Symposium will once again be hosted by HHS at James Madison University with the same goal of educating students about the changing community of science.