Penrods make Iceland home for Christmas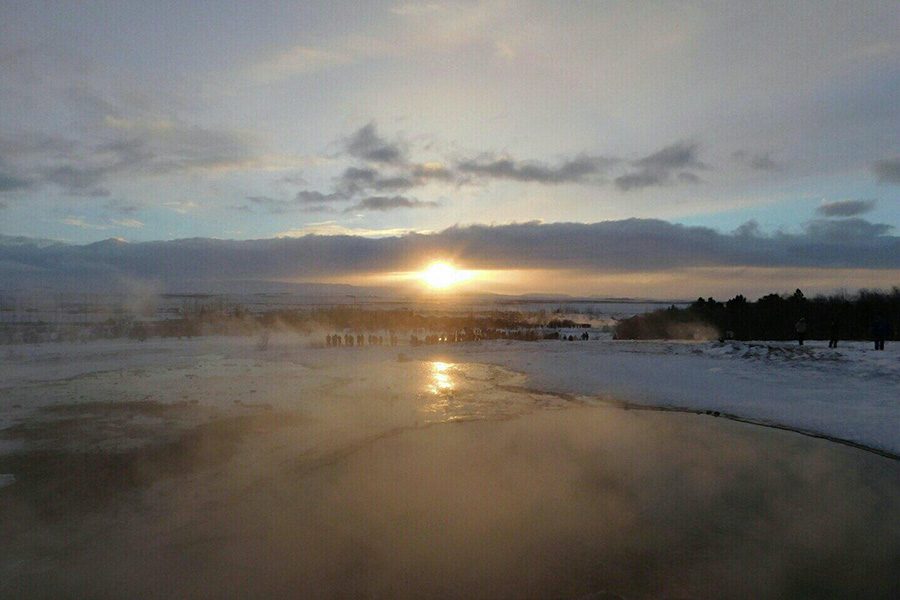 The old saying, "There's no place like home for the holidays" wasn't relevant this Christmas for Sophomore Anne Penrod. With an eager ambition to travel, Penrod and her family traveled to the capital, Reykjavik, Iceland for a week over Christmas Break to polish blurry memories.
"We went [to Iceland] when I was one year old, so my sister would've been two or three. I didn't remember anything and my parents had an interest in going back and I did too, so we decided to go over break, during Christmas just to see what it would be like again," Penrod said. "We went on these day excursions and one of them took us to a national park and you could see where the Mid-Atlantic Ridge and the Eurasian Tectonic Plates meet up. Seeing that was really cool and the scenery was absolutely gorgeous; it looked like something you would see on the desktop of a computer. We went on this excursion into one of the national parks and it was after a long day and I was really tired. I was falling asleep on the tour bus and everyone got off of the tour bus to go see [the sight]. I said, "I'll go outside, see what we're looking at and then come back in after ten minutes. When I got [off of the bus], the sun was setting over the snow and was just so beautiful. I felt like I could stand there for hours and not get bored. It was just like paradise; a winter wonderland escape."
Penrod walked from her hotel to downtown Reykjavik and explored the shops and restaurants, as well as a museum.
"Christmas is a major event for [the people of Iceland]. Ninety percent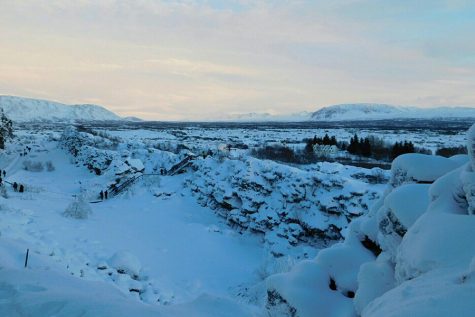 of the population of Iceland is Lutheran Christian, so Christmas is a really big deal. [Christmas] is a three day event, so at 6:00 on Christmas Eve, everything closes, [like] shops and restaurants. Christmas Day, everything is still closed and they have what they call the 'Second Day of Christmas'. There are some things open because of tourists. Tourism is a major part of their economy, but a lot of things are closed," Penrod said. "[In Iceland, during Christmas], they put lights up everywhere and instead of putting up tacky blow ups that you would see in the U.S., everything was really classy. [There were] bells, ribbons, lamp posts were decorated, houses would put lights on their porch, so you could tell [the people] were festive, but they weren't in your face festive."
Throughout her trip, Penrod got a feel for Icelandic culture, as she interacted with the locals.
"We left on a Tuesday night and flew with Icelandair. That was my first time flying with an international company because usually we fly with Delta or American Airlines or United. Instead of speaking in English to explain the safety instructions, they would do it in Icelandic first, then in English…sometimes they would just say [instructions] in Icelandic and wouldn't translate it to English, but you could tell [what they meant] because of the signs or what other people were doing," Penrod said. "We went to a grocery store in Reykjavik to get food and I noticed that people didn't say excuse me when you would bump into people or if someone wanted something they would reach across you to get it. I don't think they were being rude, they know it's just an accident or, 'I just need to get this real quick.' First, I was like, "What's wrong with them?" then I [realized] it was a cultural thing."
Penrod struggled with adjusting to the time change in Iceland, but adapted a routine each day.
"[The flight] was five hours, but the time difference is kind of weird, so there's a five hour time difference. When we left, it was 8:00 p.m. in Harrisonburg, but when we got to Iceland it was like nine a.m," Penrod said. "[The transition to the time difference] didn't really happen. We would wake up and get breakfast at 8:00 a.m. or 9:00 a.m. at the hotel and then we would go back to sleep until 12:00 p.m. When we'd wake up at 12:00 pm., it would be like 7:00 a.m. in Harrisonburg, so we never fully adjusted. It doesn't get light out until 11:00 a.m., so we'd wake up at 10:00 a.m. and it would be pitch black outside."
With this being Penrod's first time away at Christmas, Penrod missed the Christmas traditions she and her family had in Harrisonburg in the midst of her trip, however one moment in particular during her trip gave her optimism.
"I have not [been away for Christmas]; this was my first time. At first, I was like, 'I'll be fine because I'm going to be in another country. I am going to enjoy it,' but then I got homesick on Christmas Eve, not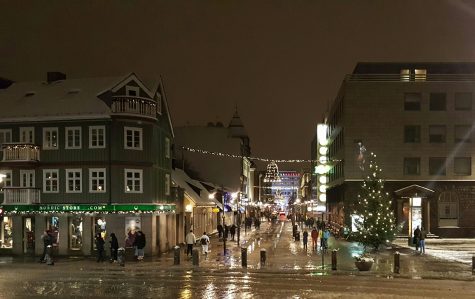 necessarily missing home, but missing my family's Christmas traditions. Usually we go to church and then go to parties, but we didn't have any of that [in Iceland]. I don't think in the future I'll go away for Christmas just because I missed our traditions so much."