Band performs twice in one day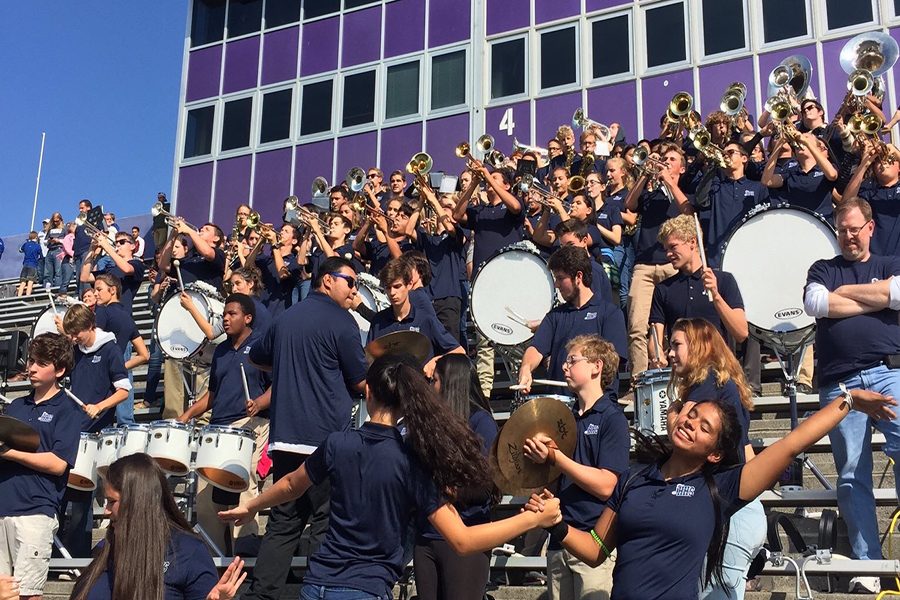 On Oct. 15, the band travelled to the Bridgeforth Stadium at James Madison University to accompany the football team on their game against the Broadway Gobblers. The band welcomed the players onto the field with the school fight song and joined with Broadway's band to play the National Anthem. With Harrisonburg winning 35-6, the band ended up contributing many celebratory playings of the fight song and various stadium jams.
Wide receiver Timothy "Bubba" Fiske loved having the band's support, but found that the band didn't affect their mindset as much as it would a Friday night game due to the excitement from being in the JMU stadium.
"On a normal Friday night game, the band does help hype up the game, but honestly, since we were playing on such a big stage, it was like we were so excited to be playing at JMU that the band didn't really affect us a whole lot," Fiske said.
However, after the game finished, the band's day was only just getting started. Ready to go with a packed lunch for the road, all marching band members boarded their buses for a competition three hours away at George Wythe High School in Wytheville, Virginia. This was the first year they had attended this competition, in hopes of getting to compete against different bands than they were used to.
Arriving at 6:00 p.m., they bought a concession dinner and watched other bands perform until it was their time to get into uniform and warm up. Heading to the field to perform after Apex High School, Harrisonburg's only other competition in their 6A division, the band knew this would be one of the last chances to place first in a competition this season. Senior drum captain Josh Jordan gave his section a pep talk before going to the field, keeping that thought in mind.
"I told drumline that this would be one of our last competitions and that we needed to focus up, giving 150 percent. Our last competition we got second place percussion in our class and second place overall, and that really hyped them up," Jordan said. "Drumline was really focused that competition and it inspired me to give my best."
However, stepping off the field after performing, junior bass drum player Cary Hardwick knew that it wasn't the band's best run of the show.
"I honestly felt disappointed. It wasn't a good run and I was kind of angry at myself," Hardwick said. "Overall I think that parts one and two [of the show] were good and then part three was okay, but then part four slowly fell apart. Don't get me wrong, there were good parts and we had really good sound, but it just wasn't where I wanted it to be."   
The band ended up winning first in color guard, but falling second to Apex in the individual caption awards of Music, Marching, Percussion, General Effect and Drum Majors.
"I wasn't entirely nervous [waiting for awards] because I was already expecting the worst. I'm a perfectionist, so if something doesn't go the way I think it should go and it doesn't feel right to me, I'm not happy with it," Hardwick said. "Since the performance didn't go very well I felt that we could do better; I didn't expect us to win. I hoped that we would, but overall I knew we wouldn't get first place."