JV volleyball crushes losing streak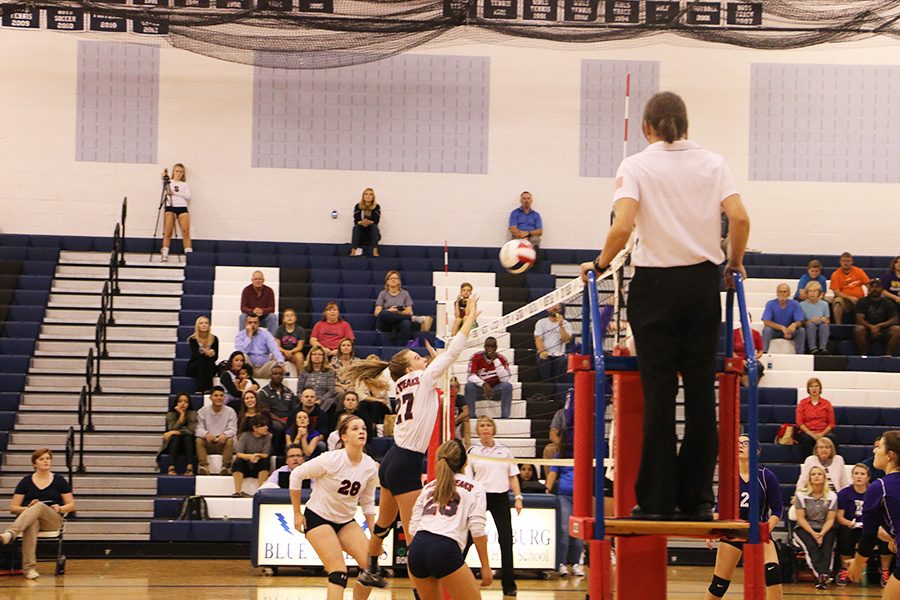 JV Volleyball Team Wins for First Time in Two Years
For two years the JV girls volleyball team has had no success in ending their losing streak, but finally the team switched up the rotation and the team was determined to defeat the Waynesboro Little Giants on Thursday night. Freshman outside hitter Abby McCollum was on the team both last year and this year, making this her first official win.
"[The win] just felt really satisfying. We've been working for it for so long and then we finally did it," McCollum said. "[The reason the team hadn't been winning was] silly mistakes. I think we have really worked hard, so it was time we got a win."
Compared to the previous year, McCollum thinks the team had improved in many aspects of the game.
"Definitely all of our hard work [caused the team to win] and so much communication. We also switched some stuff around, so we changed it up a little bit, and I think that really helped us," McCollum said. "We've definitely worked a lot more on serve receive and on serves too, so we've been doing a lot better."
Reflecting on the game, McCollum said there wasn't anything difficult about the game.
"[The best part about the game] was definitely winning and all of us coming together at the end, all cheering together. It was such a team effort and all just felt so good," McCollum said. "We had a really strong back row and had the highest passing average that we've ever had before and so that was really amazing. We got a bunch of kills and a lot of really good serves."
Last year the team had lost against Waynesboro and earlier in the season they had lost to Waynesboro.
"[Losing to Waynesboro last year] pushed us down a lot because we knew that we could beat them, but in the end it didn't happen."
McCollum has confidence in her team to win more matches.
"I hope [the record by the end of the season] will be the rest of the games won," McCollum said. "[The goal from here] is to keep doing what we did tonight; get more wins and keep on pushing to make a better team."
For sophomore left back row passer Anne Penrod, who also played last year, the victory against Waynesboro was unlike any other win she had participated in.
"[The win] was so great…an amazing feeling. I've been on teams where we've gone undefeated and winning those games, it was great, we enjoyed it and didn't take it for granted, but there were no words to describe how great it felt that we won tonight. I don't think you can get that feeling unless you've been on a losing team before," Penrod said. "I think our energy was really good and it really clicked for a lot of us in terms of passing, hitting and setting. Something happened. We wanted to beat this team for a year now."
Penrod described how the team had been trying to improve on certain difficulties, but finally seemed to work them out.
"We've been having some struggles before about talking and encouraging each other and a couple days ago we had a team talk without the coaches and that got everyone thinking about how they can encourage people on the team, even if they're not playing very well," Penrod said. "Volleyball is just as much as a mental sport, as it is physical. We would get in our own heads and we wouldn't get ourselves out of that funk and we wouldn't get our teammates out of that funk either."
This year, Penrod believes that the team is much closer than last year, and mentally, they are stronger. During the game, Penrod recalls of a moment where the team received a boost of encouragement.
"When we were on the court, I looked at the varsity girls and instead of them being on the bleachers, they were down on the floor and Jessica Denton was leading them in a cheer. That was just a really awesome experience to see that not only was the bench cheering us on and the crowd, but the varsity team too," Penrod said.
As an upperclassman on the team, Penrod's advice to her teammates is to stay positive even when things are going wrong.
"[The goal because of this game] is to keep pushing and not think we can win the next one because we beat Waynesboro. [We need] to have everyone play their best and just give one hundred percent each game," Penrod said. "I've definitely thought about when I want to stop, I can't stop, not only for me, but then the other girls can give up. It's not just because I'm captain, but I think everyone should have that same mentality because if you give up then your teammates are not going to want to keep pushing and not going to want to try."