Football: HHS vs EC Glass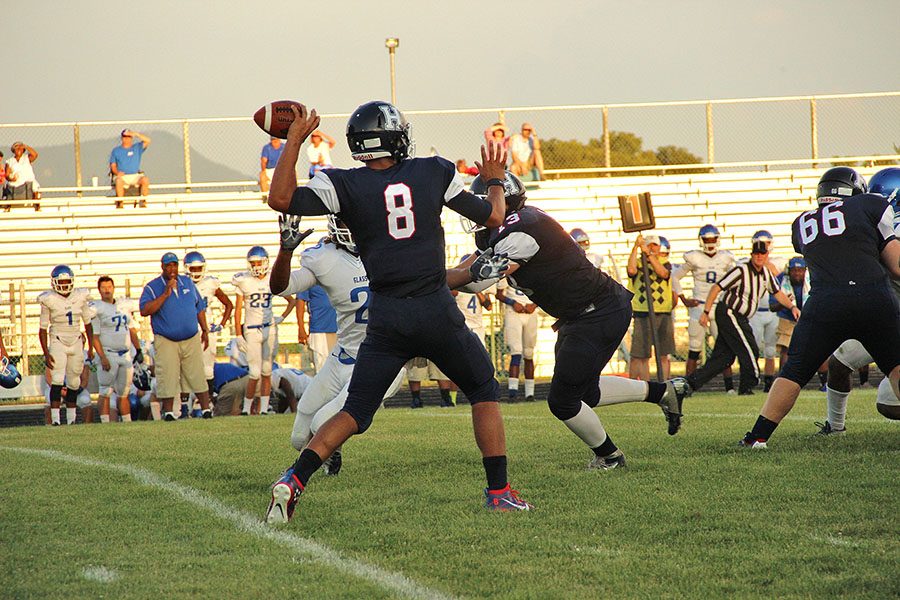 The varsity football team opened their 2016 season against EC Glass on Friday, August 26. The game was close the whole way, but Glass came out on top, beating the Streaks 37-34.
Harrisonburg jumped out to an early lead, as a forced fumble led to junior running back Collin Morris scoring the first TD of the season, bouncing a run to the outside and beating the defenders to the corner. Later in the quarter, sophomore Marcus Robinson-Jenkins intercepted a pass and returned it for a touchdown. The Streaks converted a fake field goal to pick up two points and extended their lead to 15-0.
Glass bounced back in the second, scoring a touchdown and a field goal to cut the lead to 15-10, but Robinson scored his second touchdown of the game on the ensuing possession, and HHS went back up 21-10. ECGHS was able to trim the deficit to 21-13 by nailing a field goal as time expired in the second quarter, making it an eight point game heading into the half.
The Hilltoppers came out hot in the second half, scoring a touchdown four minutes in to get back within two points of HHS. On the Streaks' next possession, a trick play turned sour, as a double pass attempt led to Collin Morris under-throwing senior Matt Meiser, and Glass picking it off. Glass made a field goal just a minute later, taking their first lead of the game at 22-21.
Harrisonburg retook the lead early in the fourth, as Robinson broke off another touchdown run, putting the Streaks back on top, 27-22. The lead only lasted two minutes, however, as Glass bounced right back, with a touchdown, and a 2-point conversion to go up 30-27 with 7:59 to go. That score stayed put until junior quarterback AC White threw a pick 6 with 3:01 to play, and Glass went up by 10, seemingly sealing the game. White threw another interception just thirteen seconds later, giving Glass the ball back with 2:48 to go, still with a two possession lead.
The game looked to be over, but sophomore Victor Lynch was able to recover a Glass fumble and return it for a touchdown, cutting the Hilltoppers lead to three points with 1:52 to play. Roberto Gonzalez-Cavazos attempted an onside kick in a hope to give HHS a shot at the comeback win, but the ball bounced off of the hands of sophomore Ja'Heim Anderson before careening out of bounds, allowing Glass to run the clock out and seal the victory.
Harrisonburg's next game takes place on Saturday, September 3, in Winchester against John Handley.