Bella Luna provides authentic wood-fired pizza experience
From the produce, to the meat, to the infrastructure of the building itself, Bella Luna Wood-Fired Pizza lets you know exactly what your food is and where it came from.
Owner Wade Luhn opened the pizzeria in 2013 with a 'twist on your average Italian cuisine.' Since then, the restaurant has progressed to serve wood-fired pizzas, hand-made pastas, fresh seasonal salads and sandwiches. Serving as the current manager of the establishment, Elizabeth Shinaberry attributes much of the early achievements of the restaurant to the leadership of head chef Colin Auckerman and owner Wade Luhn. 
"Wade, our owner, definitely has the vision which he communicates to our chef, Collin, who then takes that concept and puts his own twist on it. We're so much more than just a pizza place," Shinaberry said.
"
We're so much more than just a pizza place."
— Elizabeth Shinaberry
Originally constructed in 1862 as a horse stable, the building that houses the popular restaurant has been restructured from the ground up, while still retaining many traditional aspects.
"This building was an old horse stable, or livery, that was brought back to life in the form of Bella Luna. We have a natural skylight that used to be a freight elevator, all of the original brick, as well as the huge oak doors out front. We wanted to refurbish the building to all of it's glory, while still keeping all of the elements that make it unique," current manager Elizabeth Shinaberry said.
In addition to the modern redesign of the historic building, the staff maintains a traditional Sicilian wood-fired oven to balance innovation with tradition and fuel the majority of the food production.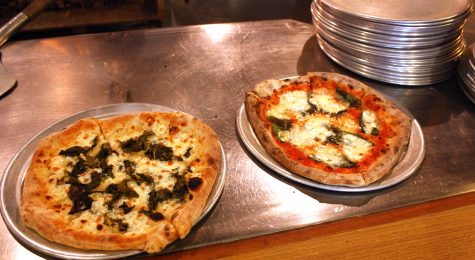 "Just about everything on the menu is created in-house, inside that oven," Shinaberry said.
In addition, Bella Luna is unique due to their well-maintained partnership with numerous local outlets that allows the restaurant to use fresh ingredients, fruits, and vegetables.
"Everything on our menu is seasonal. Our salad, soups, and cocktails all change to accommodate what is available to us at that time. Our chef's choice pizza of the day is topped with local veggies and meats that we get from local purveyors. For some of our cured meats we have to outsource to places up to 5 hours away, but produce wise, everything comes from the Shenandoah valley," Shinaberry said.
Bella Luna focuses not only on the creation and distribution of good food and overviewing a well-maintained establishment, but also on serving the general population to the best of their ability and making a positive impact on the community.
"For the most part we employ professionals. We do have some high schoolers and students from JMU, but they all live here year round and have accepted that working here is part of their overall life and is expected to be a main priority- not just their beer money," Shinaberry said.
Since their debut to the Harrisonburg community in 2013, Bella Luna has already been recognized as one of the best restaurants in the Harrisonburg area and Virginia. In 2014, they were the recipients of the "Best Pizza-Best of Virginia" award distributed by the Daily News Record and the Rockford Times, in addition to receiving a "4.5/5" rating from TripAdvisor.
"Bella Luna is super versatile and caters to very diverse groups of people. Any day you'll come in, and at one table you can see a couple celebrating their 50th wedding anniversary, and then right next to them are 17 sorority girls from JMU," Shinaberry said. "We get a lot of first dates, birthday dinners and families with small kids which creates a really welcoming and warm environment. When it comes down to it, our customers are to credit for all the success we've found."
Leave a Comment