Opinion: Five reasons 2016's March Madness is unforgettable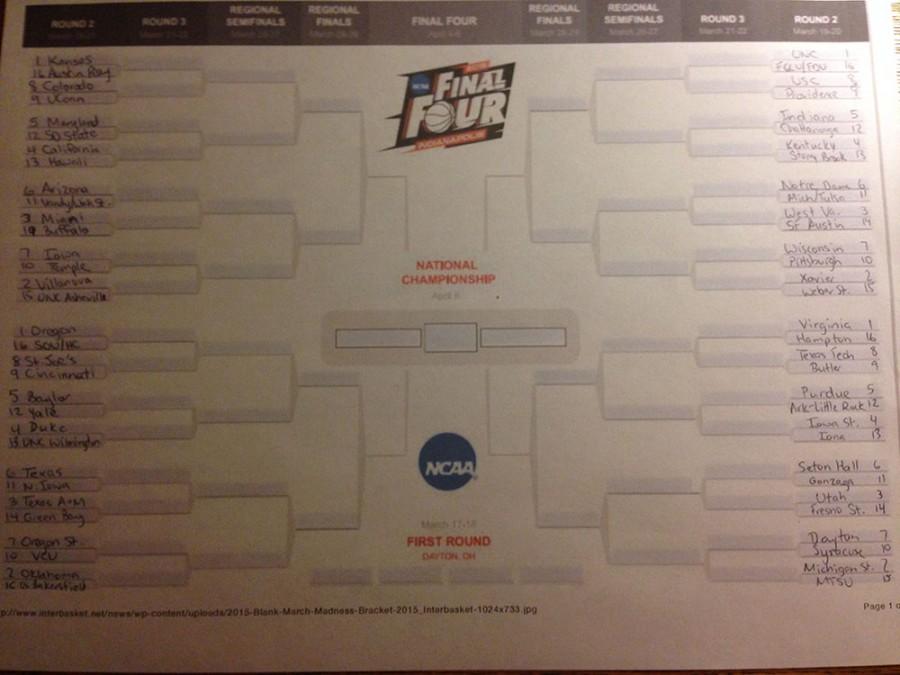 Once a year, college basketball takes sports' biggest stage for three weeks during March Madness. 68 college basketball teams duke it out for the title of national champion in an always tense single elimination format, leaving nobody safe. March Madness is annually one of the most exciting sports events, but this year's spectacle could be one for the ages if the regular season is any indication.
Exciting Players
March Madness is always packed with exciting players, and this season is no different. Oklahoma's Buddy Hield is second in the country averaging 25.1 points, shooting an incredible 47.3% on three pointers. Hield won't be alone however, as this year's bracket is packed with future NBA contributors. Duke's Grayson Allen has been a sophomore sensation after hardly playing as a freshman for the 2015 national champions. Virginia's Malcolm Brogdon has set the ACC on fire throughout his senior season, improving his NBA draft stock on the way. Maryland's Melo Trimble anchors an exciting, but inconsistent Terrapins squad. Michigan State's Denzel Valentine, a strong Wooden Award candidate, will lead the Spartans into battle, and Kansas's Wayne Selden is finally coming into his own as a team leader out in Lawrence for the Jayhawks. Almost every team has a star, surrounded by other adequate players, which makes this year's tournament just that much more exciting.
Exciting Teams
One of the most intriguing aspects of college basketball are the frequent clashes of playing style, and those clashes are extremely common in March Madness. Some teams, like Virginia, like to play slowly and lock down on defense, whereas squads like Iowa State attempt to light it up on offense and groups like West Virginia play an always exciting full-court press in an effort to cause havoc. Other teams in the tournament also bring interesting quirks to the field of 68. Yale hasn't been in the tournament since 1962, but qualified by winning the Ivy League this season. Iowa basically came out of nowhere to be a top 10 team for most of this year. Syracuse has battled NCAA sanctions for recruiting violations to fight their way onto the right side of the bubble, and usual conference bottom-dwellers such as USC, Seton Hall and Texas Tech have put together tournament-worthy seasons as well. Every team gets into the tournament a different way, but when in the tournament, the only goal is to win, and all of these teams know how to do just that.
Battle For Seeding
Unlike most seasons, there has not been a 'dominant' team in college basketball this year. Only four teams have fewer than five losses, with only one of them being in a Power 5 conference (ACC, Big Ten, Big 12, Pac-12, SEC). The number one team in the nation has flip flopped nearly every week, with six different teams claiming the top spot in the country at some point during the season, and only one team (Michigan State) holding it for more than three weeks at a time. The one seeds in the tournament are Virginia, Kansas, North Carolina and Oregon, and all four are legitimate national title contenders. However, they will be pushed by two seeds Michigan State, Villanova, Oklahoma and Xavier, as well as a strong class of three seeds.  
Cinderella Stories
The Cinderella story is what brings so many small schools hope in March Madness. Northern Iowa, VCU, Butler, George Mason, La Salle, Davidson and Florida Gulf Coast are just a few examples of small-time teams that pulled off big-time upsets during March Madness. Adding to the suspense of this season's tournament, there are not one, not two, not three, but four teams that have a serious shot at not only upset wins, but deep runs into the tournament. Butler enters the tournament as a 9 seed, but made a run to the finals as an eight seed in 2011, and has another chance this season. With the current bracket setup, they take on a shaky Texas Tech team in the first round, with a win likely setting them up against Virginia, which will be a tough game to win, but with a team like Butler, you never know. Iona used a late season run to beat Monmouth in the MAAC title game and make their way into the tournament. They play Iowa State, a team who is dynamic, but has lost some winnable games, and would likely face a shaky Purdue squad in the second round. Temple is a third team with a Cinderella shot. They are out of the AAC, and a 10 seed with a first round game against Iowa. Finally, the fourth Cinderella hopeful normally isn't a Cinderella at all. Gonzaga has been a WCC power for the last decade, commonly making runs deep into the tournament, but this season barely squeezed in as an 11 seed. However, they are a veteran team with lots of tourney experience, which could lead to yet another deep run for the Zags.  
Rivalry Matchups
College basketball is packed with high-tension rivalries, and these rivalries are even more amped up during March Madness. The Duke-UNC rivalry has been incredible this season, with Duke winning the first matchup by one point, and North Carolina taking the second by four. The in-state rivalry between Iowa and Iowa State has grown more intense this season with Iowa's resurgence. Other smaller rivalries, such as California-USC, West Virginia-Texas and Arizona-Oregon also pepper the tournament field. While these teams likely won't meet each other in an early round matchup, good starts for a couple of these teams could lead to an exciting, action-packed rivalry matchup in the Sweet Sixteen or even the Elite Eight.
2015's March Madness tournament was one of the most predictable in recent memory, with only four lower seeds advancing through the first round, but fans of the upsets shouldn't be disappointed in this year's tournament. A combination of star-studded lineups and overlooked underdogs should make the 2016 tournament one for the ages.