Second day of "Aida" auditions completed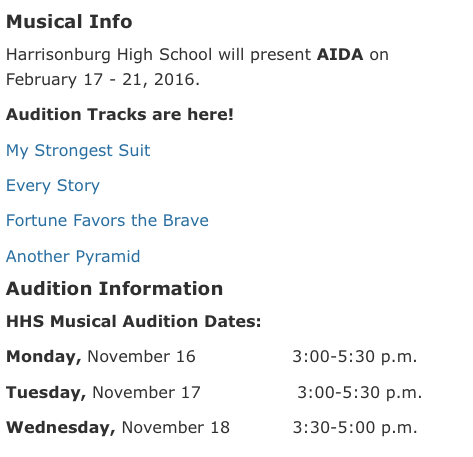 There are three days to audition for this year's musical, "Aida". Of the three consecutive choices, 34 actors and actresses decided on Nov. 17 as their audition date. 
For freshman Katie Botticelli, this year's musical auditions were a new experience and differed from those she attended in the past.
"I never had to do a monologue before so that was different and being on the stage was a little intimidating as well," Botticelli said. "I was in two musicals in middle school and it was a class for us so I was kind of forced into acting, but I also loved watching Broadway performers. I thought it would be fun to do what they do and sing and dance to awesome music."  
While Botticelli first began acting through an elective class, her motivation to further continue her acting came from her older sister, junior Abby Botticelli, who also takes part in the musicals.
"She has an amazing voice, she can make it sound like she's a different person and her acting is awesome. I've always wanted to be as amazing at the arts as she is," Botticelli said.
Botticelli decided to audition for the musical because of her love for singing and wanted to take a chance just to see what the outcome of the auditions would be. To prepare, she began practicing her monologue weeks before her audition date and practiced the musical songs everyday she could fit into her schedule, including during chorus class and after school.   
"Before [auditioning] I wasn't too nervous just because I didn't know what to expect. During the auditions I was shaking because I was so nervous and I now feel terrible about the auditions, but that's just normal nerves," Botticelli said.
Contrasting to Botticelli's situation, senior Noah Heie took part in his last musical audition for Harrisonburg High School this year.
"I have done it all four years and they know my voice and what I'm capable of so I wasn't as nervous as I have been in past years," Heie said. "I had nothing to prove this year and everything to show."
Heie attended the Interlochen Center for the Arts this past summer.
"I went to the Interlochen Center for the Arts this summer where was in a show with a bunch of really talented kids my age. I grew a lot when I went and wanted to show [the directors] that," Heie said.
With this being Heie's senior and final year at HHS, he's sad to think of this being his last musical but excited to do it.
"I'm super excited to see how this show goes. The music is written by Elton John and is super good.  I think it's gonna be a great year," Heie said.