Opinion: Pandora bracelets a Knupp favorite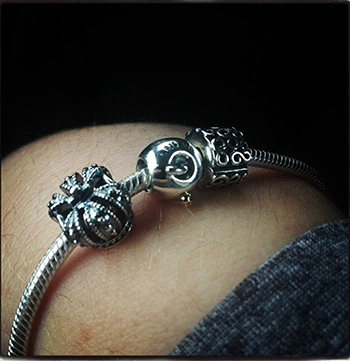 Pandora represents two things: an online music company or a jewelry company. I am talking about the jewelry, but more specifically, the charm bracelet. The bracelets come in many different styles and sizes. You could either purchase one in gold, sterling silver, or a colored leather. The bracelet can fit about 22 charms depending on the sizes.To decorate the bracelet, you can purchase charms. The charms come in a variety of sizes and colors. They also vary in price. You can buy a very simple charm like a sterling silver heart for approximately $25 or the most expensive for $770! This is a Royal crown with a 14 carat gold base, embedded with smaller diamonds. There are over 600 different charms and a newly released Disney collection. The bracelet is perfect for any occasion. I got mine last year for Christmas from my Nana. The most common way is for children to give to their mom or a boyfriend to give to a special someone.
The charms can be used to express feelings for someone or to represent a special event in your life. You can buy Pandora from any specially marked store or retail store. In Harrisonburg, you can purchase them from Christopher William Jewelers on Evelyn Byrd Avenue. When you buy the bracelet for the first time, it comes in a small white bag with matching tissue paper that says Pandora on it. Inside is a small white box that is embedded with foam to prevent scratches when traveling. When buying a charm for your bracelet, it comes in the same little white bag, but rather than a small box, they are placed in a small amount of tissue paper that is inside of a white pouch. Whenever I see the white bags on a holiday or birthday I get really excited and can't wait to open it. Would would you like to see a loved one get excited? Go purchase a Pandora bracelet.