Freshman football beats waynesboro, 24-14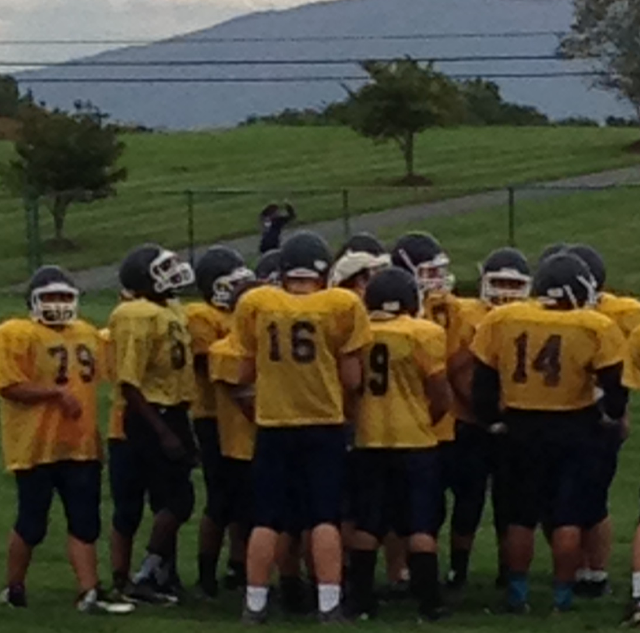 The junior varsity football team huddles during practice on Tuesday. They beat Waynesboro on Monday, improving their record to 3-3 after finishing just 2-8 last season.
The JV Football team defeated the Waynesboro Little Giants 24-14 Monday in a makeup game, grabbing their second consecutive win and making their season to 3-3.
After a first half in which the Streaks trailed 14-0 and had been intercepted twice, eighth grader Austin White took over at quarterback and the offense took off. Marcus Robinson followed blocks from fullback Casey Blankenship, linemen Chris Johnson and Sanjin Gorta to score two touchdowns and tie the game up early in the 4th quarter. With the game knotted at 14 and facing a fourth down from the Waynesboro 18 yard line, the Streaks gave eighth grader Mateo Peric a chance at the 35 yard field goal, and he converted, giving HHS a 17-14 advantage. Blane Murphy booted two kickoffs through the end zone for touchbacks.
Late in the 4th, Waynesboro drove out to near midfield trying to tie the game or take the lead. Little Giants quarterback Kazmaun Johnson under threw a pass intended for Christian Tolliver, and it was intercepted by freshman Gabe Poirot, who returned it for a touchdown making it 24-14 Blue Streaks. The defense held up late, and Harrisonburg pulled away with the win.