Marching Band pushes through the rain at Spotswood game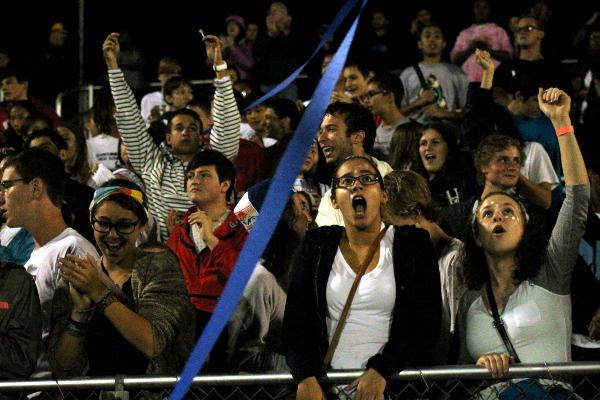 On Friday, Oct. 9th, the varsity football game against Spotswood delayed due to rain. Rain has an effect on the band, and what they can do at these games.
Sophomore Geneva Vanwyk described what happens to the band when it rains.
"If it rains, woodwinds can't play. If it rains, we can't wear our uniforms. If it rains, we can't march," Vanwyk said.
Despite these difficulties, the rain did not stop the band from playing. Even though they could not go on the field for halftime, they compensated by playing from the stands. Their impromptu halftime show even included a drums-only rendition of Mary Had a Little Lamb that had the crowd cheering hysterically.
One group of the band that could not perform at all was the color guard. Senior Lauren McKenzie was disappointed that they could not perform, but expressed her resolve to not let the rain get the best of her.
"We can't perform and that really upsets me, but other than that it's like a 'push through the rain' kind of thing," McKenzie said.
Although the rain did hinder the physical ability of the band, Vanwyk said that the thing she liked most about performing at football games was not the music, but the atmosphere.
"It's the energy of being with everybody and everyone is having fun [that] is really great most of the time. Everyone is really positive even if we don't win, which usually happens," Vanwyk said.
This excitement was echoed in the words of junior Josh Jordan.
"What I like best is the hype that we do, like, playing it, I don't know, it's just so much, I like everything about the football games," Jordan said.
The football team went on to beat Spotswood making their current record 4-2. The team already has as many wins as they did in the last two years combined.