Opinion: Allen is a hero to Dotas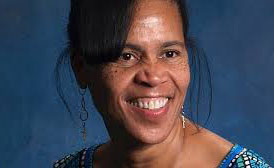 Evan Dotas, Feature Editor
April 30, 2015
It's time to stop glorifying the executive and legislative officials who serve this country. We need to move on to the true heroes: our judges. In honor of the current Supreme Court case that will soon rule on the constitutionality of federal gay marriage, I am here to talk about one particular magistrate. Of course, not all justices are great (looking at you, Henry B. Brown). However, the best judges, with the exception of John Marshall, are far too often overlooked. So today, I give my thanks to Arenda Wright Allen.
Wright Allen was born in Philadelphia in 1960. She became a JAG in the Navy for 20 years, before joining the Federal Public Defender's Office in Virginia. In 2011, she was appointed as a federal judge through a 96-0 Congressional vote, which is where she currently serves.
In her four years, Wright Allen has been fairly uneventful. However, many judges have one landmark case that will define their entire career, and Wright Allen has already had that experience. On February 13th of last year, Wright Allen ruled that Virginia's same-sex marriage ban was unconstitutional.
In 2006, Virginia added to its Constitution the Marshall-Newman Amendment, which barred any kind of marriage not between one man and one woman. Said amendment was supported by 57 percent of the state's population. But, given the recent wave of support for LGBTQ rights, it has become even more controversial than it had been. The life-or-death moment for this bill was on February 13th of last year, where it was brought before judge Wright Allen in Bostic v. Schaefer. Of course, Wright Allen found the amendment unconstitutional, and so it was appealed. The appellate court upheld Wright Allen's ruling, which then led to another appeal, this time to the Supreme Court. However, the highest court denied the requested writ of certiorari, and, along with four other states, gay marriage became legal in Virginia.
Given that Wright Allen simply interpreted the Constitution to support what is currently a popular opinion, it may sound like a stretch to call her a hero. However, given the impact that this will have on Virginians, I think that she deserves a lot of credit.
Most superheroes wear flashy capes and go around saving innocent people from muggers and villains. Of course, this just doesn't happen in the real world. But by that same logic, Wright Allen is certainly a hero.
First, she does have a cape, so she meets the fashion requirement. However, what is obviously most important is the impact that she is going to have on innocent lives. Some of the extremist views against gay marriage portray people who just want to get married as people who actually want to corrupt society and undermine traditional values. Yet this is a huge burden to put on Aaron and Jacob, the men who live down the street and work at the bank and the theater, respectively. To put it frankly, no one that is getting married, gay, straight or otherwise, is doing so in an attempt to bring down or bring up society. Rather, it's just a simple motion to express love, and nothing more.
Wright Allen made a decision that helps protect innocent lives. Her ruling, which was ultimately the final one, is an attempt to change the stigmas against homosexuals in society. It was an interpretation of the Constitution that held that everyone should be valued equally under the eyes of the law.
Soon, the Supreme Court will make an official ruling about gay marriage in this country. But regardless as to whether they agree with Wright Allen or not, she is a hero. She successfully protected the rights of citizens throughout the state. She made a decision that would obviously garner lots of backlash and criticism, and she stood by it. She fought for equal protection under the law–and the judge won.