Boy's tennis coach a legacy in his field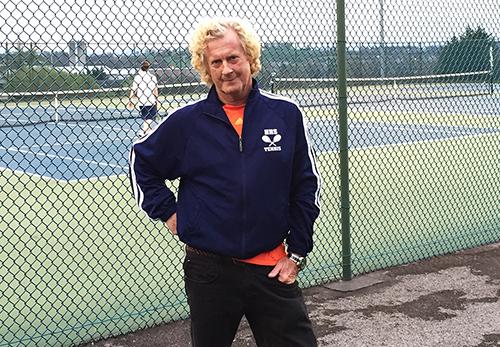 Many people at HHS are unaware of the accomplishments of Danny Logan – the boys' tennis coach for the fourth year running. From being a state runner-up to state champion during his high school career, Logan is a legacy.
"I've been playing tennis for 50 plus years," Logan said. "Actually, make that 52 because I started at ten years old."
Before coming to HHS in 2011, Logan sold recreational real estate. Along with that he coached tennis at Eastern Mennonite High School at one point and later at Bridgewater College. With so much experience, Logan has narrowed his ideal trait and coaching lesson to one thing.
"I look for competitiveness and will to win. That's number one," Logan said. "I coach to always try your best and never give up in a match."
After so many years of playing, Logan could not imagine a life without tennis.
"Coaching is my way to be able to compete even though I'm not the player," Logan said. "That's what I live for. Even though I can't place anymore because I'm not in tournaments it's a way to compete. I've got to have it. It's the best time of the year."
Living and breathing tennis is understandable for a man of Logan's success.
"My high school tennis career is well-documented," Logan said. "I was the first individual state champion in AA history in 1970, the first year they held an individual tournament. My team my sophomore year was state runner-ups and champions my junior and senior years – state champions."
"Our team started a legacy that was to follow for three or four more years after that," Logan said.