Gallery: Tiny Tots achieves another successful performance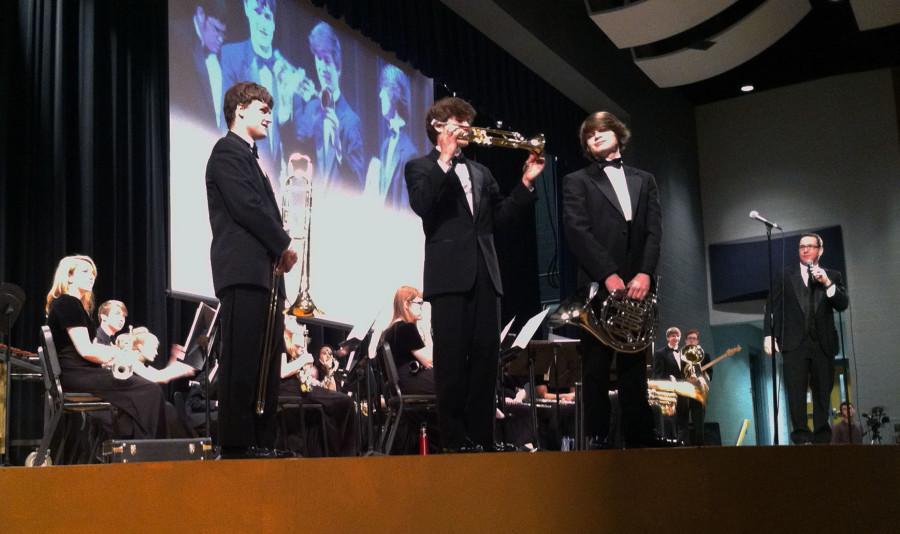 The HHS auditorium has seen lots of breeds: scientists, comedians, authors, and, on occasion, Kindergarteners. On March 24, 25, and 26 the Symphonic Band played their seventh annual Tiny Tots concerts. Over a thousand youngsters from Harrisonburg and the surrounding counties came to HHS to get their first taste of live music – of the Disney variety.
"Lion King has been played [since Tiny Tots started]," said band instructor Daniel Upton. "Aladdin, Star Wars… We added Frozen, which came out last year. All the young people get excited for [that]."
However, Tiny Tots offers more than show tunes – for many kids, it acquaints them with the band setting. Prior to the performance, Symphonic members milled about in the audience, teaching curious youth the names of their instruments.
Polite audience behavior? That's something Tiny Tots doesn't teach. Instead, conductor J.R. Snow encouraged the crowd to yell, giggle, and sing along to the band if they were so inclined. (And, when Frozen's Let it Go rolled around, nearly every audience member was inclined.)
Tiny Tots was brought to HHS by Snow, who had a similar program at the his previous school.
"I think it's very important to reach out to younger students and get them excited about music," said Upton. "We're getting to the point now where next year's Freshman class will have experienced the Tiny Tots concert. That adds onto recruitment, but it also gives [the kids] a real life experience to tie to what they're doing in music class."
The band program has yet to see if Tiny Tots will have an impact on the size of their marching band. If so, HHS could have one of the largest marching bands in the Rockingham County area.
Upton expressed that the most rewarding thing about holding these concerts is seeing his band interact with the children. Some Symphonic members abandoned their traditional concert dress in favor of Disney garb. On Tuesday morning, two Storm Troopers could be seen greeting the visitors.
Percussionist Nick Burzumato didn't play a role in the Tiny Tots event, but he requested to make a statement for this story.
"I saw Mr. Upton open the door to the auditorium and I peeked inside. The Tiny Tots band was playing Frozen and every single little kid in the audience was singing along," Burzumato said. "It was the cutest thing I've seen in my entire life."
Percussionist Josh Jordan, who did participate in the concerts, was similarly affected by the experience.
"It's really fun to see them try [percussion instruments] and see them get that awesome feeling of 'I can play the instrument!' " said Jordan. "That's the most rewarding thing to me."