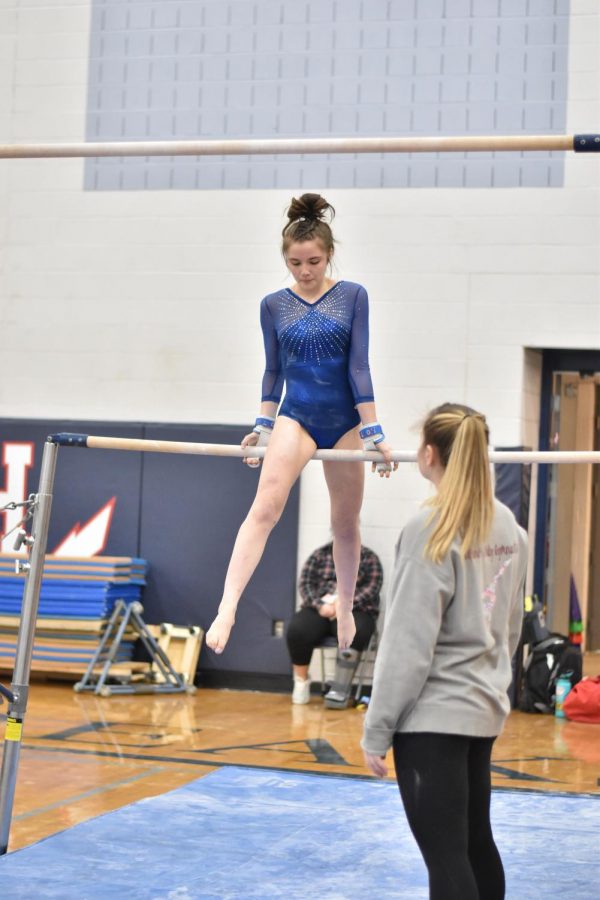 Elizabeth Healy
Friday afternoon and the only sounds you can hear coming from the gymnasium are thud, creek, and the scraping of velcro. Peeking your head in, you see gymnasts from across the county and athletes of all skill levels practicing together. 
A year ago this was senior Lizzy Healy's life. Now, she doesn't have a gym to practice in and her season is cancelled. Despite these setbacks, Healy appreciated the two seasons she competed with the gymnastics team. 
"I didn't start gymnastics until I was a sophomore and it was kind of fun for me to do something that I always wanted to do, but I never really ended up doing," Healy said. "My favorite part is probably just getting an excuse to kind of act like a little kid. You get to stand up, walk around your hands [and] do things that you wouldn't normally get to do."
The gymnastics team practices with Turner Ashby and Spotswood. This allows all three teams to have secure practice venue and more equipment to practice with because they share the cost of creating a fully equipped gym.
"Another thing that's kind of cool about gymnastics that I don't do in other sports, is that we actually practice with Turner Ashby and Spotswood, which is, I think the only sport in high school that does that. It's kind of cool to get to be with other people from other sports and I think we look at TA or Spotswood and we're like 'Oh we're so different from them,' but when it comes down to it, we all just want to be doing the same thing," Healy said. "It's definitely really different [to practice with opposing teams]. I met this girl named Savannah [Church], she joined the same year I was there and that's been pretty cool. Her mom actually teaches at the high school. It's different because we go to meets where all three teams compete separately, but we all practice together. We have like a little chant that we say at the end of every practice we say Spotspyburg on three, because it [combines the names of all three schools]. It's definitely weird, because when we go to meets we all kind of cheer each other on even though we're all competing against each other."
In middle school Healy suffered from a few broken arms. Her last breakage never healed properly and caused her to have a continuous wrist injury. She was also dropped from a cheer formation during the competition cheer season and injured her neck badly. 
"I'm kind of able to work with [the side effects leftover from a broken wrist]. I wear a brace, but I can put like KT tape on it and that'll help it, or I can just pop it back into place when it does stupid things. I also had a really horrible neck injury last year during cheer. I lost pretty much all of my range of movement in my neck. That was a really big challenge. Also, mental challenges, running at a stationary vault is really difficult to try to work your head around," Healy said. 
Compared to other sports teams on campus, the gymnastics team doesn't hold tryouts and allows any student who wants to learn how to do gymnastics practice. They also don't have a mandatory practice requirement allowing more accessibility to the sport.
"It's kind of different because everybody's so busy and some people come in and out. Some people practice five days a week, two days a week, it kind of varies. Some people just show up from time to time. It's just kind of whenever you can come. The team dynamic is we've always had captains [depending on] whoever's been on the team the longest," Healy said. "There are three groups for every single practice, there are the people that have been doing gymnastics their whole life, and they're obviously at the most advanced level, then there are people like me that kind of started a little bit late but can definitely do some things by themselves. We have our beginners that have come in, probably as 15 and 16 year olds that have never done gymnastics in their life. They have to learn how to do things like a forward roll."
Due to many beginners competing with the team and a lack of resources in the valley to start gymnastics at an early age, it is hard for the team to compete in the 5A division. 
"We were hoping every year [to] try to look more like we know what we're doing in the previous year. We can't compete with the schools up in Northern Virginia when all of those girls are going to go D1, it's just not going to happen. If I score a five on bars I'm like, 'That's incredible.' Those girls get 9.6," Healy said. 
The sport of gymnastics has a history of athletes who develop eating disorders. However, gymnastics has helped Healy overcome her eating disorder. Despite the tight uniform, the team is accepting of all body types. 
"On our particular team it's never about how you look or even how you look doing a skill. It's always about the technique and doing things the way it's supposed to be done. We do a lot of weightlifting, so it's always about the strength, over being a certain size or a certain weight," Healy said. 
The team is a close knit community. Many of the gymnastics girls are also on other teams in the offseason, and use gymnastics as a way to increase their tumbling skills. They are also obligated to travel for long periods of time to get to their meets, which will sometimes last entire days. 
"Also the gymnastics girls are also the cheer girls, so we spend about two thirds of this whole year together. We formed great tight bonds, and especially for gymnastics, there's never a competition or meet where we don't have to travel at least two hours [for]. We're always [at school] at 5:30 am and no one wants to be there, but we're all there," Healy said. "We do a secret Santa, sort of thing for every single meet. [For example], I got a blanket one year because it was 40 degrees outside."
Throughout Healy's triumphs, such as landing a new skill a week after she learned it, she has also experienced many setbacks. From mental blocks caused by fear or embarrassment, Healy still appreciates how gymnastics has helped shape her personality.  
"I think it made me realize that I can do a lot more things than I think I can. [It] has really pushed me out of my comfort zone. I was never an athlete until my sophomore year, [but] then I did everything. I think sports in general have shown me that you don't have to put yourself in a certain box, you can be an athlete, and a singer. You can do a lot of different things," Healy said. 
"[There's] that one event some days I'm great at it and some days I suck. There have been many meets where I just don't even get over the vault at all," Healy said.
This year Healy was excited to work on honing her best event, floor, and improving her competitive beam routine. The floor event in gymnastics consists of a gymnast performing a set of tumbling skills on a softer bouncier surface. 
"I really love floor, that is the easiest event for me because I've grown up doing dance my whole life. My favorite event I would probably say is bars, just because I came in and I somehow had an itch for it. I still work at the level of like a 10 year old, but what I can do, it's pretty. I'm actually one of the more advanced people on my team, even though I haven't been doing it very long. I guess that's just the one event that I was naturally okay at," Healy said. "There are a few new tumbling passes I wanted to incorporate. Beam was one of those love hate sports, I love practicing it, but competing is very nerve wracking. I was hoping to have a few routines where I didn't fall off the beam. Just minor things."
In the future, Healy plans to become a dietitian to help others struggling with eating disorders. She has found a school that supports her major, but doesn't plan on competing in gymnastics there. Instead, she will use her tumbling skills to continue cheerleading in college. 
"I don't plan to do gymnastics in college at all. I do plan to do cheer in college, so I'll still continue some of the tumbling aspects for sure. Even some of the jumps are very, very similar. Over the summer I'm hoping that Skyline Gymnastics might be able to start up in some capacity so we can at least do it a little bit longer," Healy said. "[I'm looking at the] competition cheer team at the [University of New Haven]. I talked to the coach and they call it a spirit group. They go to competitions and then they cheer at football games and basketball games, so it'll be a little bit of both at the University of New Haven, Yale sister school."
The gymnastics team fosters an open atmosphere for anybody who wants to join. Healy wants HHS to know that gymnastics is for everybody. 
"If you want to do it just do it. People won't judge you there are going to be lots of other people in the same boat as you. If you've ever said, 'Oh, I wish I could do gymnastics.' This is your opportunity to do it," Healy said.