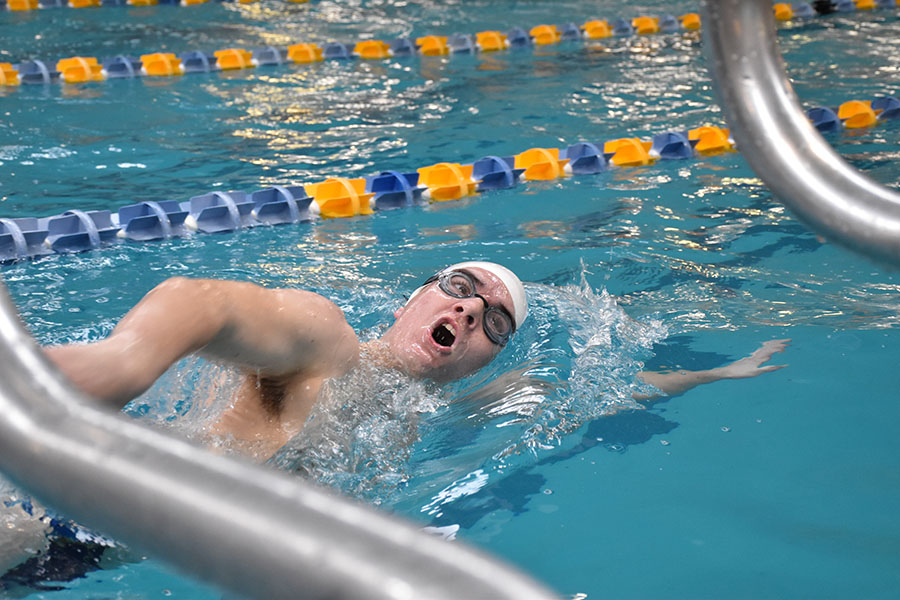 Nathan Brown
Q: What was your favorite memory from the swim team?
A: My favorite memory from the swim team would have to be regionals last year because I swam pretty well for my event and we just had a lot of fun with the team that day. After the meet was over, [my team along with a couple other teams] chilled in the locker room and listened to music and had a good time together.
Q: Who had the greatest impact for you on the team?
A: I would say Ritt Culbreth, the captain on our team last year, had the biggest impact on me. He was able to take swimming seriously while we were practicing but he also understood that we were there to have a good time when we weren't focused on swimming so he did a good job of making sure we were serious but not so serious that we weren't having fun. My favorite memory with Ritt was when I was in eighth grade and he was a freshman, it was always him and I in the slow lane together because we weren't very good at the time. We both bonded over the fact that we were getting killed by workouts made for [swimmers much faster than us]. I can't speak for anyone but all I can do is hope at least one of the underclassmen saw me in the same way.
Q: Did you feel you had that same impact on any underclassman?
A: One freshman that really grew on me was Levi Zook. I tried my best to be a good mentor for him cause it was his first year on the swim team and he lives in my neighborhood so I would give him rides to and from practice. I hope I had a good impact on him.
Q: How would you have taken on a leadership position this year if there was a season?
A: I would have taken everything I've learned from past years captains by, again, trying to keep the team serious, but keeping in mind we are there to swim, [and] we're also there to build good relationships and have fun together. 
Q: What was your most embarrassing moment in swim?
A: My freshman year I missed about a month of the season because of a concussion. My first week back after recovering, our coach put me in the 500 freestyle which is the longest event that they have in swimming. I was insanely out of shape swimming the hardest event and I got [lapped three times] by the [swimmer] in first and ended last by a very large margin.
Q: Did you have any challenges with your concussions or anything else related to swimming?
A: I missed a large amount of the season two [years] in a row so just trying to keep myself in shape while the entire team practiced five days a week was difficult after not practicing for a month. I had to work really hard to keep up with everyone because I was so out of shape [due to my concussions]. Both of those seasons, I ended up getting personal records at regionals at the end of the season so it felt good [that] something was paying off after hardship.
Q: How have you grown in the past four years of swim?
A: I think I've become more willing to try more events that I wouldn't have normally wanted to. My eighth grade and freshman year I only wanted to do events that I could sprint and get over with quickly, but as I got older and this past year especially I swam the 200 and 500 freestyle which are two of the longest and, in my opinion, hardest events. As I grew into a more leadership heavy position I started to branch out my events I didn't necessarily want to but I ended up enjoying them and I'm glad I had a variety of events under my belt.
Q: How has Coach Morrell affected you?
A: Coach Morrell has had a big impact on my swimming because he knows how to push us to do well and there are a lot of times where he'll tell us to do a specific workout and everyone will say something like "come on coach we can't do that…that's too hard" but he does a good job of pushing you throughout the entire practice [making you realize] you were able to do it. Morrell understands that there is a fun aspect about the team because sometimes when we're goofing off after practice he's not too strict about it because he understands there's a team bonding aspect that's necessary as well.
Q: How has your experience in your sport made you who you are?
A: It's made me not shy away from being in a leadership position because I saw how big of an impact the older swimmers had on me when I was a freshman and sophomore so as I became a junior and now senior, I want to have that same impact with the younger members on the team as well.