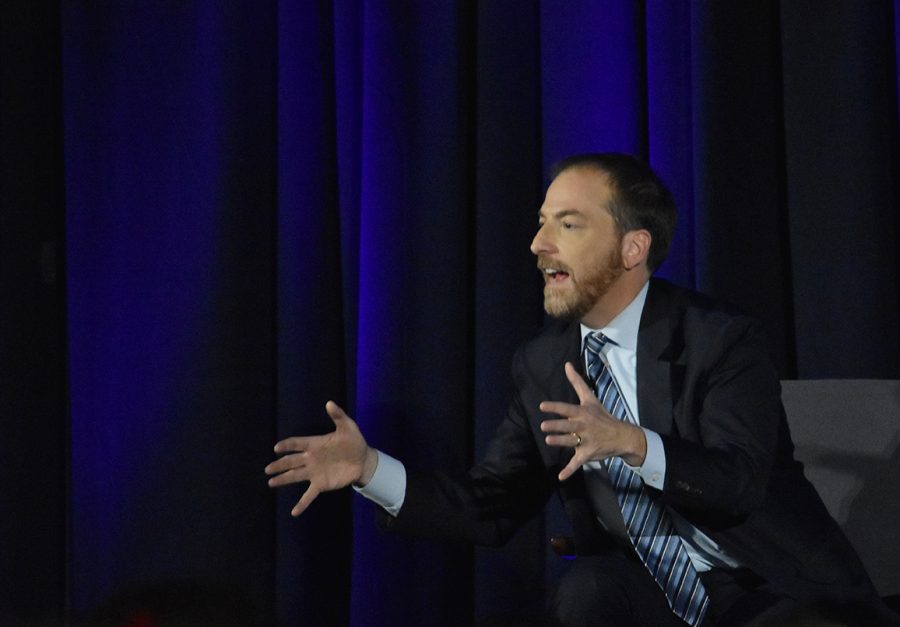 HHS Media staff attends JEA/NSPA journalism convention
December 6, 2019
In the early morning hours of Nov. 21, 34 journalism students, associate principal Lisa Warren and broadcasting teacher Emilee Hussack departed for the annual JEA/NSPA Fall National High School Journalism Convention held this year in Washington, D.C. Traveling from across the country and England, Canada and China, 6,088 students registered for the four day convention to improve their broadcasting, literary magazine, newspaper and yearbook skills.
Chuck Todd, moderator of NBC's "Meet the Press" and on-air political analyst for both TODAY and Nightly News with Lester Holt, gave the keynote address with Elon News Network's faculty mentor Kelly Furnas. In it, Todd urged student journalists to learn about the changing political climate and cover national news with a local focus.
"We have to learn how to make local news great again," Todd said in his talk. "You guys are now the best local journalists in your community, sometimes the only journalists in your community. Embrace this."
Newsstreak editor junior Holly Bill found Todd to be entertaining but not necessarily informative for her.
"I thought the keynote was really cool because [Chuck Todd] is a really famous person in journalism and politics, but I feel like he didn't really talk about techniques for high school journalists and how to get out there into the real world," Bill said. "It was still really cool to see a famous person."
During the convention itself, Bill attended a variety of sessions on leadership and multimedia journalism, something she believes the staff can improve on.
"I took away some new infographic ideas [because] I feel like we do a lot of the same infographics over and over again. In one of the infograph sessions, she gave a lot of ideas for different types of infographics, like timelines [and] maps," Bill said. "My favorite session was '10 Habits of a Highly Effective Editor' because the teacher had really good techniques for editors, [like] little things you could do to help our staff grow and [let them know] that they're important and we want to help them."
Fellow Newsstreak editor junior Simon Beach found the time collaborating with the other eight editors to be useful in addition to the classes he took in leadership and sports photography.
"Overall, I'd say the convention was a pretty good learning experience for us as a staff. I think it was good to bounce our ideas off each other. Having nine people to think together was pretty helpful," Beach said. "It's kind of hard sometimes to sit down and edit 17 stories during class, but one of the leadership [sessions] we went to [said] to make that the top of your priority list because that's how they feel good about themselves and improve themselves."
Freshman Lily Fleming experienced her first journalism convention in Washington, D.C., and she believed that it was a good opportunity for her to learn from different advisers.
"I felt like the people who were talking had a lot of knowledge on what they were talking about. They were pretty professional," Fleming said. "A lot of the stuff I learned I had an idea about, but they went really in-depth so it was helpful to progress in writing."
Fleming hopes to apply what she learned to her work as a page designer for the Newsstreak.
"[I want to] take the stuff I learned at the convention and implement it into my writing and what I do [with] editing and doing a page."
Freshman Kasey Thompson, another Newsstreak page designer, attended sessions on interviewing and using tools on a cell phone to help tell stories.
"I learned a lot better interviewing skills. It was a good reminder to start spending more time doing your best work doing social media and writing stories," Thompson said. "I really want to start taking more time and taking better pictures for social media; that's important. Getting stronger quotes from people and being able to write better stories with those quotes [are also my goals]."
Thompson enjoyed the fact that the students came from all over the world.
"I thought it was cool [that] the students were from different places because we all had different ideas and different strengths [in] our papers that we could talk about," Thompson said.
In addition to attending sessions, the group visited the Newseum and Tyson's Corner Center.
Yearbook editor Jane Thompson found Newseum to be interesting as well as a positive start to the trip.
"I really like D.C., so walking around and visiting the Newseum was really fun. It was very informative," Thompson said. "I liked the one in the basement with the FBI. It was a bunch of separate cases all displayed, [like] terrorist cases, shootings, bombings. It was a really big display and I just really enjoyed it. The Newseum was crazy."
Thompson, who has also attended conventions in New York, N.Y. and Anaheim, Calif. decided to go to Washington, D.C. to have fun and grow relationships with her staff members.
"The trips so far in my high school career have been some of the best memories from my year," Thompson said. "Being my senior year, I went with the intent of having fun. It was successful; I had a pretty good bonding experience with my team and even Newsstreak. We kind of combined forces and were a big group. It was pretty cool."
For Bill, the convention was a good place to solidify the skills she has been improving since her first year of Newsstreak freshman year.
"I think these conventions are helpful because on staff we do a lot of learning through practice and trial and error," Bill said. "Conventions are a good opportunity to learn specific skills and techniques that help [our] writing, page design, photography [and] pretty much anything in Newsstreak."