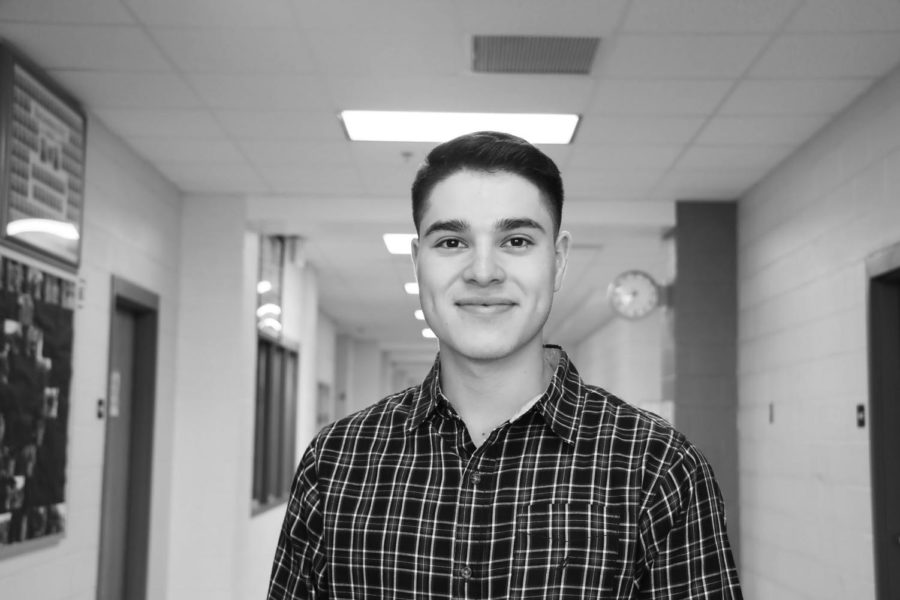 Guillermo Mejia Lopez
Q: What does being a first generation college students mean to you?
A: It means a lot. Honestly, it puts a lot of pressure and responsibility on my shoulders knowing that I'm the first one in my family to go to college. That means that I also have to create a path for my siblings to follow and that also means to like bring hope to my family. We're going to break those chains of not going to college. So, it's a big deal for me and I am very proud.
Q: What have you done to obtain above a 4.0 GPA?
A: Well, I tell you the first thing is it's not easy. It's really hard. I think what helped me the most is I always had the right mindset and I always wanted to challenge myself. So my freshman year, I took one AP and one honors class. Then, the next year I stepped up the game and I always try to focus on my school and also some doing some extracurriculars allows me to have fun at the same time because you have a lot of stress. So. I feel like I was always on top of my game and taking more classes that helped my GPA.
Q: What extracurricular activities, clubs, sports have you done?
A: I first started my freshman year with joining the Spanish club. I didn't know about any other club and didn't know the English language, so Spanish club was really welcoming. After a year, I became the president of the Spanish club. After that, I enrolled in the JROTC program and that's where I've dedicated my life to and my career. I've been staying after school until like sometimes 8:00. I've also been in the Blue Streaks ambassadors. I left the the organization about one or two years ago. I've also been part of my church youth group, part of the Boys and Girls club also. I enjoy being involved at school
Q: Do your work?
A: I used to work. I worked many different jobs. I was a painter at some point. Then, I was a housekeeper. I worked at Walmart as an associate. And I was a waiter. I was also a decorator at a special events such as parties and weddings. I decided to take a break because I want to focus on going to college and right now my priority is not getting money, but it is getting scholarships and applying to other scholarship and other colleges and focusing on ending the year with a 4.0 GPA.
Q: Did you originally think you were gonna go to college?
A: My dream has always been to go to college. It's not an option and for family, you know it's something that I have to do something that my parents were not able to do and therefore they expect the best out of me. I feel like they deserve it and I owe them that. So ever since we came to the United States, I've wanted to go to JMU or at least some type of college. As I went through the school year, I figured out that it was going to be a little bit rough and tough. My road was going to be a little bit bumpier just because I don't have the legal documents like a green card residence or whatever. I worked really hard my junior year and suffered a little bit of a downfall because It's then when I realized that I wasn't going to apply for the FAFSA because I can't fill it out and so many things, you know. Then, you know I was doubting myself and I thought I wasn't going to go to college, but with the help of the right mentors and teachers, I was able to look over that and cope with that. So, yeah at some point I did think that I was not going to go to college, but thanks to God i'm going to college.
Q: What are like the biggest difficulties that have come that come with being a first-generation student?
A: You tend to be independent and that's a very good thing, but it also comes with flaws if you forget and you want to do things on your own. You think that everything has to be done by yourself. You never ask for help and I personally never ask for help and I think that's one that's one of the things that I wish that I could go back and fix. You should have connections with teachers and with students. You should be more outgoing and have more connections as I said before.
Q: Where are your parents from and why did they come to the U.S?
A: We came from Honduras four years ago. So for our entire lives, we knew nothing else but Honduras and Spanish. I left when I was 15 years old and it was like a big thing. I was really scared to start something new. But I'm really happy that I'm here and in an amazing country full of opportunities blessed by god and by the family that I got. For example, JROTC, my counselors and the people who have helped me here. Honduras is a really tough place. There's not a lot of job opportunities and it's just really dangerous to live there. People who try to begin a business end up being killed, threatened or murdered for something that they haven't done. I used to go to private elementary school over there. and it just got really expensive over there. Students there don't really have classes and they don't really get the opportunity to learn a different language. So, my parents decided to go to go to a different country because we weren't able to pay for school anymore. Soon, my parents were not going to have a job. My mom was a housewife so everything was just accumulating on top of us and it's just got to the point where we didn't have any other options so they said "ok, we're leaving" and that's why they came to the U.S. They did it out of love, passion and they wanted to take care of us. My parents are now working. My dad is working on cargo. My mom is still trying to do as many jobs as possible. If someone needs her to paint and she doesn't know how to paint, she'll learn how to paint. If someone needs her to work construction, she'll learn how to do construction. So, they've been working really hard. They sacrifice for my siblings and I every day of their lives. They brought us here because of us. They're doing this because of us. So, I just wanted to thank them and they just have always looked out for us and did what was best for us as well.
Q: In high school, what has helped you prepare for the future?
A: I would say I wouldn't have done it without my peers. They have really helped me a lot especially when I came to the country and I didn't know how to speak the language. Many of them were very understanding and they helped me as well. Sergeant Major and Colonel are my favorite teachers and mentors. They are like a father figures to me and many times when my parents weren't able to assist or attend to one of my ceremonies because they're at work, they were there. They have never missed a single award ceremony of mine. That really tells you how much they love me and the support they give . I also got support from Mr Lamb, Mrs. Rachel, Mrs. Bacon and Mrs. Warren. They've just been so appreciative and supportive of me.
Q: What type of advice would you give to a first generation student?
A: I'll tell them I know you have goals and you want to achieve your dreams, but I want to say that it doesn't matter how long it will take you as long as you stay on track and you have that clear goal. Keep working hard every day and yes, you will experience difficulties and adversities, but you grow through hard times and tough times. That's when you develop your character and when you get to know people. Just keep working hard no matter what happens in life. Keep working hard and remember that you're not doing this for yourself. For example, I'm doing it for my family. So, whatever your goal is or whatever your dream, to keep that in front of you and in your mind so that you're always motivated to do something.
Q: What college are you going to and what are you gonna major in?
I'm going to Bridgewater College and I will be majoring in health sciences. After that, I plan to go to Mary Baldwin to get my graduate degree and my graduate education and become a physical therapist. So, I'll be getting my DPT degree in physical therapy at Mary Baldwin.
A: Is there anything additional you'd like to say?
I'm just really happy to be here at Harrisonburg High School. Many times, we take things for granted and are very quick to judge people, but I feel like my high school is so beautiful and diverse and it brings so many cultures and languages together and that's what makes it beautiful. The fact that we have so many ideas and can all come together as a family and see past our ethnicities is what makes it beautiful and I just want students to know that they have a great school, principal, teachers and peers.