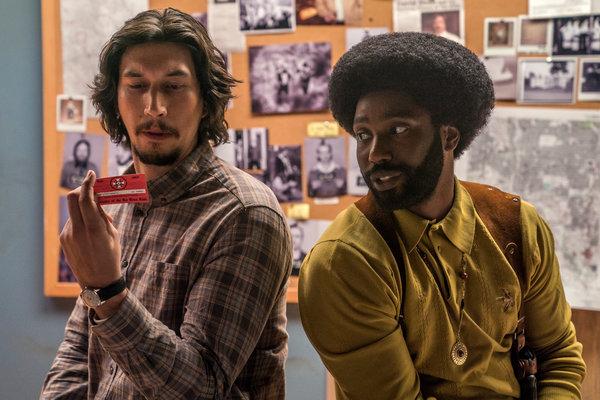 David Lee/Focus Features
"BlacKkKlansman" delivers a fierce punch to racist American ideals
February 16, 2019
Intro
Director Spike Lee returns to form with "BlacKkKlansman", a true yet bizarre story of a black man infiltrating the KKK. Lee takes no time to plunge into his personal beliefs on racism through an opening scene revealing a shot from the film "Gone With the Wind." He utilizes this as a way to show the history of American racism to set the tone for the duration of the film.
Synopsis
The film follows afro-sporting Ron Stallworth (John David Washington) who, in the 1970s became the first African American detective in a small-town Colorado police station. After asking for undercover work, he is tasked to attend a Black Panther rally in order to infiltrate a civil rights leader. At the rally, he meets Patricia Dumas (Laura Harrier), president of a black student union at a college, and begins to find an interest for her. A date ensues after the rally, but an incident with a racist patrolman leads to his reassignment to the intelligence division. He comes across a newspaper to find an advertisement about becoming a member of the KKK. From there, Stallworth poses as a white man on the phone and recruits Jewish colleague Finn Zimmerman (Adam Driver) to act as him in order to infiltrate the KKK.
Washington's and Driver's buddy-cop chemistry
Ron and Flip's friendship make for a entertaining duo of characters, which is only elevated by the dark, humorous script. Washington and Driver deliver solid performances as their characters find themselves in nail-biting situations with members of the KKK. Stallworth develops annual phone conversations with the Grand Wizard, David Duke (Topher Grace), while still posing as a racist, white man. Grace plays David Duke with a sense of unnerving sense of charisma, even though the audience is aware of the hateful ideology that his character follows in.
Lee's politically charged direction
Similar to Lee's production of previous films, he smartly hides a reflection of our modern society within his films to get his point across. During one scene, Stallworth expresses his thoughts on how a man like David Duke could get elected as president of the United States. Ironically, a white cop states his thoughts as naive. However, today's audiences are understanding of the joke because a man endorsed by Duke has indeed taken the presidency.
"BlacKkKlansman" manages to be an wildly entertaining film, despite the dark subject matter. Through Lee's direction, he masterfully crafts for a series of unpredictable events. The tonal shifts within the story can be jarring at times – from playful and humorous to morbid and horrific- and certain characters are written for humorous effect, which can take you out of the film. Above it all, the layers in the film are effective in showing audiences a closer view of their own world, which I presume was Lee's intention.
Wrap Up
Even though the nature of the film's real events are exaggerated for dramatic effect, Lee understands his intentions to try and confront audiences with a reality that many refuse to see. "BlacKkKlansman" is a necessary piece of cinema that calls for change and concludes on a grim note that the events in the film still paint a portrait of America today.