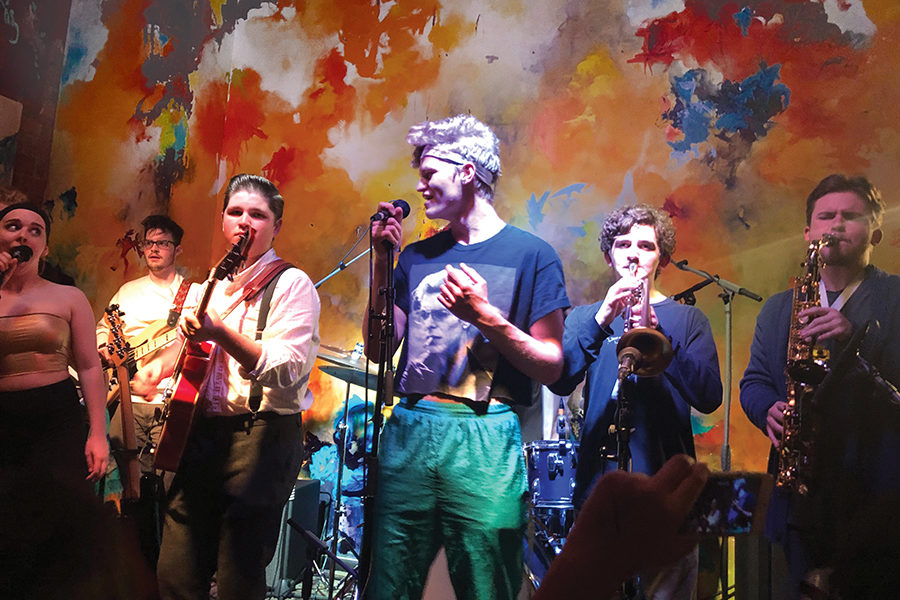 Photo courtesy of Allison Miller
Low Volume hits Clementine Cafe with sold out performance
January 25, 2019
Band members reflect on show
Shouts and hollers filled the air of Clementine Cafe as senior Weston Hatfield and junior Kate Cummings stripped the jackets of their 80s look and threw them to the floor. The crowd was loving the cover of Nelly's "Hot in Herre" being performed by Low Volume, a student band. It was 9:30 on a Saturday night, Jan. 5, and the servers were struggling to make their ways through the crowd of HHS students swarming the stage in the back of the restaurant. For senior Sam Schaeffer, lead percussionist, this cover was a favorite of the night.
"The audience's reaction was really great, and it's just a really fun song to play. It features each member of the band well," Schaeffer said.
Low Volume was formed about two years ago. Though the band currently has seven members, the Clementine's performance included an eighth, Will Evans. After performing a gig with Schaeffer and meeting senior Jaden Graham at All-State jazz this year, Evans left a lasting impression on the members of the band.
"He's absolutely incredible. He's a way better musician than any of us. It was really sweet to get him [to perform with us]," Graham said.
Evans came down for only one rehearsal before the gig, but for the other members of Low Volume, the preparation took weeks.
"We practiced probably for an entire month beforehand, and we had people taking vacations for winter break, so it was just a huge logistical nightmare until the last week when we managed to finally get everything together," Graham said.
In 2018, Low Volume performed at Clementine's when they opened for Gryzzle, a band made up of JMU students. This time, Low Volume sold out their first headlined show with an opening act from a younger HHS band, The Governeers.
"It was a lot more stress and emphasis on us beforehand [than when we opened for Gryzzle]. We [had] a lot of time to cover, but the actual gig was much smoother than we thought it was going to be. We were actually cut off," Schaeffer said.
As the night drew to an end just after 10:00, the crowd roared for another song. The band yielded to the audience and ended the night with a performance of Stevie Wonder's "I wish."
"The gigs are really great, and it's cool to see a bunch of our friends and [the rest of] the community come out to watch us play," Schaeffer said. "It gives them a chance to see us in a bit of a different light than they may during the usual school day."
Low Volume is looking to perform again at Clementine's, with the ultimate goal of moving on to even bigger venues and, consequently, bigger audiences.
"You definitely feel a lot more connected as a band in front of a live audience because you've got that adrenaline going through you. I definitely feel like I play a lot better in front of a live audience. I'm able to connect with every other band member," Graham said. "[Our goal is] to get our name out there as much as possible before we graduate… and hopefully move to bigger venues outside of Harrisonburg."

Band evolves from jazz to funk
Harrisonburg High School's Low Volume started as just friends playing music together, but it's grown into a schoolwide phenomenon. Saturday, Jan. 5, Low Volume headlined a sold out show at Clementine Cafe, coming a long way since they first came together two years ago. According to guitarist junior Leif McCoy, the band formed naturally.
"A few of us had played in a band before, so we all knew each other. It just kind of came together pretty naturally from that," McCoy said. "We requested to do a few isolated jazz gigs and played a while under no name [before realizing], 'Hey, maybe we might want to take this somewhere further and consolidate it a little bit.'"
When Low Volume started, they were a jazz band performing gigs for older people. Since, they have transitioned away from jazz and into funk, performing covers in addition to two original songs.
"Jazz is the forefather of funk, so we all had a basic knowledge of that," McCoy said. "[Part of the transition was] just listening to other people that we enjoy and to each other. We took things and put them together. It was a pretty simple transition."
Besides McCoy, Low Volume consists of seniors Sam Schaeffer (percussion), Noah Pope (alto saxophone), Weston Hatfield (percussion/vocals), Jaden Graham (bass), Philip Hart (tenor/soprano saxophone and piano) and junior Kate Cummings (vocals). According to Hart, a major part of the transition from jazz to funk was the switch up the arrangement.
"It was mostly a change of instrumentation," Hart said. "Instead of playing saxophone I played a lot more piano because funk needs piano."
Before headlining at Clementine, Low Volume was the opening act at the same location in August 2018 for Gryzzle, a band that they also draw inspiration from.
"We're inspired by this local band called Gryzzle and all of the members in that band go to JMU," Hart said. "Other than that, our other inspirations are Stevie Wonder and we have a lot of jazz influence."
Despite having much jazz influence, Low Volume doesn't incorporate solely jazz and funk into their music.
"[We have] lots of different stylistic influences because we have lots of different style influences within the members of our band. We have people who are just into funk, people coming from a jazz background and then you have me, [who] came from rock and acoustic music," McCoy said. "I would like to think that that adds an interesting dimension. It's the sum of us, not an influence from someone else."
As most of the band members are seniors, the future of the band beyond high school is unknown. Currently, Low Volume just wants to continue what they've started, taking advantage of the gigs and opportunities to perform.
"I don't know how far we are wanting to take it all," McCoy said. "They're all seniors and I'm a junior, so there's going to be a point where it's going to stop with me in it at least… I think all we can ask for is more of the same and moving in an upward direction, both musically and in our gigs and shows."