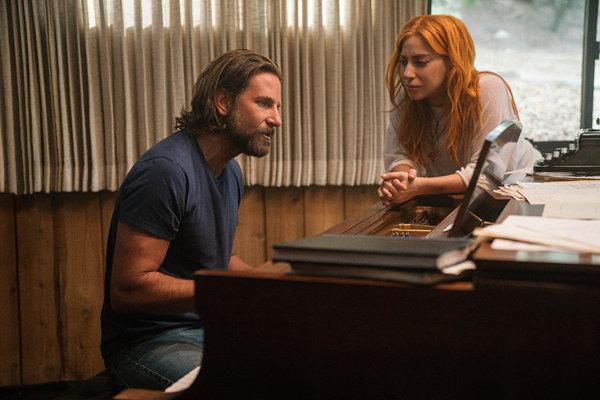 Clay Enos/Warner Bros.
'A Star is Born' reincarnates beautiful, emotional romance
December 25, 2018
Intro
The fourth time's the charm with another remake of the classic Hollywood story "A Star is Born". The film serves as the directorial debut of Bradley Cooper, but it also shines a spotlight on pop star Lady Gaga in her biggest film role to date. Cooper's new take on the complex and romantic tale of two struggling artists is ascended to new musical heights in modern style.
Cooper and Gaga create magic
Our first introduction to country-rockstar Jackson Maine (Bradley Cooper) is within the first frames of the film at a booming, energized concert scene. In almost an instant, viewers can catch onto his troubling addiction to alcohol and popping pills. This sets into gear the problematic situations that come with being a famous musician. The famed Jackson Maine first meets Ally (Lady Gaga) after a drunken mishap leads him to a drag bar. Ally appears as a deity within his eyes, as she sings a rendition of "La Vie En Rose". When her gaze locks into his, the two instantly connect at the climax of the song. A chemistry blossoms between the two artistic souls.
Lady Gaga's on-screen presence as Ally was an absolute delight to witness on the big screen. While she is acknowledged for her voice and charismatic personality, the film's moments filled with anger and vulnerability sell her as a frontrunner for Best Actress at the Oscars. This is not the first time Gaga has received acclaim for her performances as she went on to win awards portraying The Countess on "American Horror Story: Hotel." Her character is not much of a departure from her pop star persona, but she manages to transform into an artist seeking fame.
Despite romantic cliches being put here and there, Cooper uses them as a director to craft a love story that feels fresh and original. His direction of the pacing could have been vastly improved within the second act of the film where it tends to drag. However, the third act cleans up nicely as it strikes many emotional cords. Cooper nails it as Jackson Maine because of how he provides a solid portrayal of someone dealing with their inner demons. His current career path has drawn comparisons with Cooper to Clint Eastwood, another example of an actor turned director. With potential behind and in front of the camera, he has the ability to receive recognition as one of the most talented people working in Hollywood today.
A strong supporting cast
While the story is centered on Ally and Jack, supporting characters are utilized as important figures within the story. In particular, Bobby Maine (Sam Elliott) offers a scene-stealing performance as the brother and manager of Jack. The two brothers share a distant, but close relationship out of the fact that Jack "stole" his brothers voice. One of the many heart-wrenching scenes, Bobby drives away after his brother confesses a longtime secret. The emotion within his eyes, ready to flood with tears, show the brotherly love shared between one another. Other strong supporting characters worth mentioning are the protective and loving father of Ally (Andrew Dice Clay) and Jack's close musical companion (Dave Chappelle).
Memorable, award-worthy soundtrack
"A Star is Born," is lead by the music sung by romantic duo Jack and Ally. From piano ballads to country-rock duets, the film's music is centered on themes such as love, bonding and struggle. At one point, Jackson encourages Ally to join him on stage as he sings "Shallow", a song that they wrote together. As he sings the first verse, Ally paces on stage to join him on the next. Nervous at first, her vocals increasingly get louder and transition into an passionate-filled aria. I was left feeling exhilarated during the scene, which was the peak of the film for me. "Shallow," is almost a guaranteed winner for Best Original Song at the 2019 Oscars. But the soundtrack as a whole offers a wide variety of earworm-inducing songs, such as "Black Eyes" and "Always Remember Us This Way".
Gorgeous and meaningful cinematography
Facial close-ups and colored silhouettes of our titular characters brings the story to an intimate type of love story. Cinematographer Matthew Libatique filmed the concert sequences in a first-person perspective to create an impression that we were directly witnessing the concert. Libatique perfectly captures the frame of emotional moments that are timed and choreographed at just the right time.
Wrap Up
The story shifts from a dream-like romance to a heavy drama within the next half hour of the film. Ally rises in fame, while Jackson continues to delve towards alcoholic despair. It is the old-fashioned romantic tale that we have all come to know, but with a story that delves into a closer view of a romance struck with flaws. By the last shot of the film, you are left emotionally drained and possibly in need of tissues.
Director Bradley Cooper and actress Lady Gaga are names destined to be heard more as we roll into the next decade. "A Star is Born," has only garnered momentum as the award season begins and stands as the crowd-pleasing film to beat. Our next review is the only film that stands in the way of "A Star is Born" chances of winning Best Picture at the Oscars. A foreign language film from Netflix, Roma.