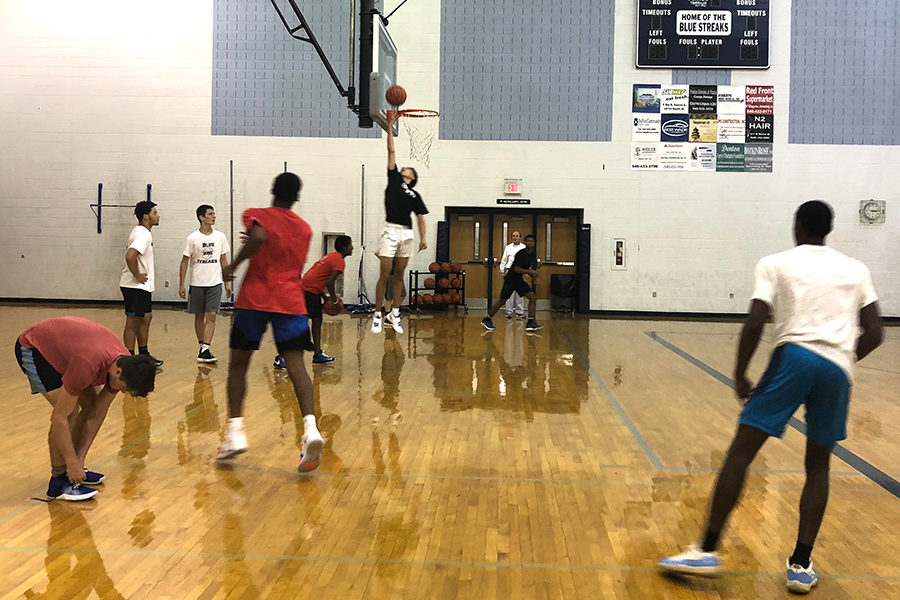 Basketball trains for upcoming season
September 24, 2018
Boys work on skills in offseason
The regular season for Varsity and JV Boys Basketball doesn't start until November, but many athletes planning on trying out have been attending preseason training since the second week of school. Sophomore Jesse Lichti is one of these athletes, and this is his second year participating in the preseason training.
"[Preseason practices are beneficial] because as long as you're doing something, it's better than nothing," Lichti said.
Preseason training doesn't just involve playing basketball; in includes a lot of conditioning in the weight room.
"[We do] a lot of lifting and running. The hardest part is lifting because I've never done it before," Lichti said.
While conditioning is a major part of preparing for the regular season, the athletes also have open gym on Tuesdays and Thursdays. Varsity Boys Basketball Coach has been running open gym practices.
"
Players are made in the offseason."
— Coach Don Burgess
"In open gym, we do agility drills, ball handling, and basic basketball fundamental skills, [like] dribbling and shooting," Burgess said.
According to Burgess, working on fundamentals is what helps the players improve, which is what's so important about preseason practices.
"Players are made in the offseason. It's hard to improve drastically in the inseason because you're basically just doing maintenance work and getting better for the season," Burgess said. "During the offseason is when you can work on becoming stronger and [developing] different skills. It's when you can turn your weaknesses into strengths and improve on your strengths.''
Both Lichti and Burgess are excited for the upcoming season. Lichti prefers the regular season and games over practices and preparation.
"It's been a while, [and I'm] excited to play in games again. Basketball is fun and I'm ready to play," Lichti said.
Burgess is not only excited about the large number of students that have been attending open gym, but he's also very much looking forward to games and seeing support in the stands.
"I'm really looking forward to the HHS student body and the faculty and staff coming out to support not just my student athletes, but all of our HHS student athletes at all these games and functions," Burgess said.

Leave a Comment
Girls work on strength, conditioning
The Blue Streaks girls basketball team is in the midst of training for the upcoming winter sport. Starting pre-season training soon after the beginning of the school year, the ladies work on getting stronger for the season. Preseason training consists of shooting drills, offensive and defensive series, individual skill drills and lifting weights. Head coach Durmont Perry has been working to make sure the team starts the season strong.
"For us it's important to start training before the season because we don't want to go into the season out of shape. If we can already be into shape when the season starts, that's one less thing that we have to work on," Perry said.
For freshman Mariah Cain, the season is more of a time to work on fine-tuning skills, whereas the pre-season is for getting more powerful.
"During the season we don't really get a lot of time to go in the weight room and run because we have other things to deal with for games. It's important to get conditioning in and get stronger," Cain said.
Getting in the gym earlier in the season also helps them get to know one another, and build a team community.
"Getting the girls to bond makes it a whole lot easier for them to communicate with one another. One thing you'll hear our girls talk about is [that] when we travel we take their cell phones from them. It allows them to talk more [and] it helps them when they're on the court," Perry said. "When you get a strong knit group of girls together that trust each other, that's what you're looking for."

Leave a Comment