Week 1 Power Rankings: Ravens, Jets soar; Bills, Titans sink quickly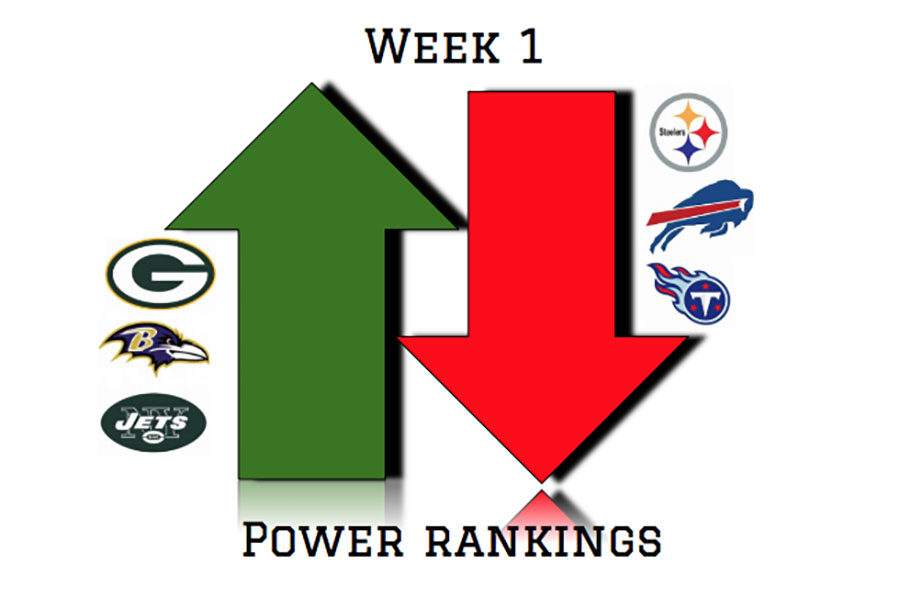 The first week of the NFL season is complete. Some results were expected, whereas some were not. Our five panelists have learned a little bit about each team, and have updated their rankings.
TRENDING UP: Week 1 was full of surprises and wild comebacks, namely the incredible effort of the Green Bay Packers, who trailed the Bears 20-0 in the second half, and spearheaded by a hobbled Aaron Rodgers, battled back to win 24-23. Rodgers was clearly in severe pain after a leg injury in the first half, yet threw three touchdown passes in the victory. The Baltimore Ravens utterly dominated the Bills in a 47-3 opening day win, with the defense forcing multiple turnovers and Joe Flacco finding each of his three new receivers for touchdowns. The New York Jets emerged with a resounding victory on Monday Night Football, defeating the Lions 48-17, and the performance of rookie QB Sam Darnold was encouraging.
TRENDING DOWN: As mentioned earlier, the Buffalo Bills lost emphatically in Baltimore, essentially looking incompetent offensively throughout much of the game. It's impossible to play that bad for an entire season, but early signs aren't looking good. After a tie with the Browns, who were winless in 2017, the Pittsburgh Steelers also dropped a few spots. Pittsburgh turned the ball over six times, yet were able to get out of the opening week without a loss. They won't be that lucky again. With injuries to Delanie Walker and Marcus Mariota, the Tennessee Titans struggled in a first week loss to the Dolphins. After making it to the second round of the postseason last year, things aren't looking pretty early on.
WHAT TO WATCH FOR: Week 2 has a few intriguing matchups as we look ahead. The Carolina Panthers head to Georgia to face off against the Atlanta Falcons in a divisional matchup. After dropping their opener, the Falcons are in danger of falling to 0-2 in a tough division. The Minnesota Vikings and Green Bay Packers have a crucial Week 2 game upcoming that will determine who the early NFC North frontrunner is. Aaron Rodgers is still listed as questionable after his Week 1 injury, and his status will have a huge impact on that contest. The headlining matchup for Sunday afternoon is an AFC title game rematch between the New England Patriots and the Jacksonville Jaguars. The Jags picked up where they left off last season, showcasing a great defense and an average offense in an opening week win against the Giants.
Next Ranking: Wednesday, September 19
Ranking

Owen Stewart

Owen Marshall

Noah Siderhurst

Madison Varner

Samantha Little

1

1-0

—

1-0

↑ 6

1-0

↑ 4

1-0

—

1-0

↑ 1

2

1-0

↑ 1

1-0

↑ 1

1-0

↑ 6

1-0

↑ 4

1-0

↑ 3

3

1-0

↓ 1

1-0

↓ 2

1-0

↑ 6

1-0

↑ 6

1-0

↑ 1

4
1-0

↑ 1

1-0

↓ 2

1-0

—

1-0

↓ 1

1-0

↓ 3

5

1-0

↓ 1

1-0

↓ 3

1-0

↓ 1

1-0

↓ 1

1-0

↓ 2

6

1-0

↑ 3

1-0

↓ 1

0-1

↓ 4

1-0

↓ 4

1-0

↑ 2

7

1-0

↑ 5

1-0

↑ 3

1-0

↓ 4

1-0

↑ 3

1-0

↑ 2

8

0-1

↓ 2

0-1

↓ 4

1-0

↑ 14

1-0

↑ 15

0-1

↓ 2

9

0-0-1

↓ 2

0-0-1

↓ 3

1-0

↑ 3

0-0-1

↓ 4

0-0-1

↓ 2

10

1-0

↑ 5

0-1

↓ 1

1-0

↓ 4

0-1

↓ 2

1-0

↑ 8

11

0-1

↓ 3

1-0

↑ 6

0-1

↑ 3

0-1

↑ 4

0-1

—

12

0-1

↓ 1

0-1

—

0-1

↓ 1

1-0

↑ 14

1-0

↑ 4

13

1-0

↑ 4

1-0

↑ 16

0-0-1

↓ 6

1-0

↑ 5

0-1

—

14

1-0

↑ 16

1-0

↑ 6

0-1

↓ 1

0-1

↓ 7

1-0

↑ 16

15

1-0

↑ 6

1-0

↓ 1

0-1

↓ 5

1-0

↑ 7

1-0

↑ 6

16
0-1

↓ 6

0-1

↑ 6

1-0

↑ 11

1-0

↑ 9

0-1

↓ 4

17

0-1

↓ 3

0-1

↑ 15

0-1

↑ 9

0-1

↓ 4

1-0

↑ 7

18

0-1

↑ 5

0-1

↓ 5

1-0

↑ 1

0-1

↓ 4

0-1

↑ 8

19

0-1

↓ 1

1-0

↑ 2

1-0

↑ 12

0-1

↑ 10

0-1

↓ 2

20

1-0

↑ 5

0-1

↓ 4

1-0

↑ 9

0-1

↓ 9

0-1

↓ 10

21

0-1

↑ 1

0-1

↓ 2

0-0-1

↓ 5

0-0-1

↓ 2

0-1

↓ 6

22

0-1

↓ 9

0-1

↓ 7

0-1

↓ 7

1-0

↑ 9

0-1

—

23

0-1

↓ 3

0-0-1

↑ 7

0-1

↑ 1

0-1

↓ 11

0-0-1

↓ 3

24

0-0-1

↑ 4

0-1

↓ 1

0-1

↓ 4

1-0

↑ 3

0-1

↓ 10

25

0-1

↓ 1

1-0

↑ 1

0-1

—

0-1

↓ 8

1-0

↑ 2

26

1-0

↑ 1

1-0

↓ 1

1-0

↑ 2

0-1

↓ 10

1-0

↑ 2

27

1-0

↓ 1

0-1

↓ 16

0-1

↓ 10

1-0

↑ 5

0-1

↓ 2

28

0-1

↓ 12

1-0

↓ 4

0-1

↓ 7

0-1

↓ 8

1-0

↑ 4

29

1-0

↑ 3

0-1

↓ 11

1-0

↑ 3

0-1

↓ 5

0-1

↓ 6

30

0-1

↑ 1

0-1

↑ 1

0-1

↓ 7

0-1

—

0-1

↑ 1

31

0-1

↓ 2

0-1

↓ 4

0-1

↓ 13

0-1

↓ 4

0-1

↓ 12

32

0-1

↓ 13

0-1

↓ 4

0-1

↓ 2

0-1

↓ 11

0-1

↓ 3