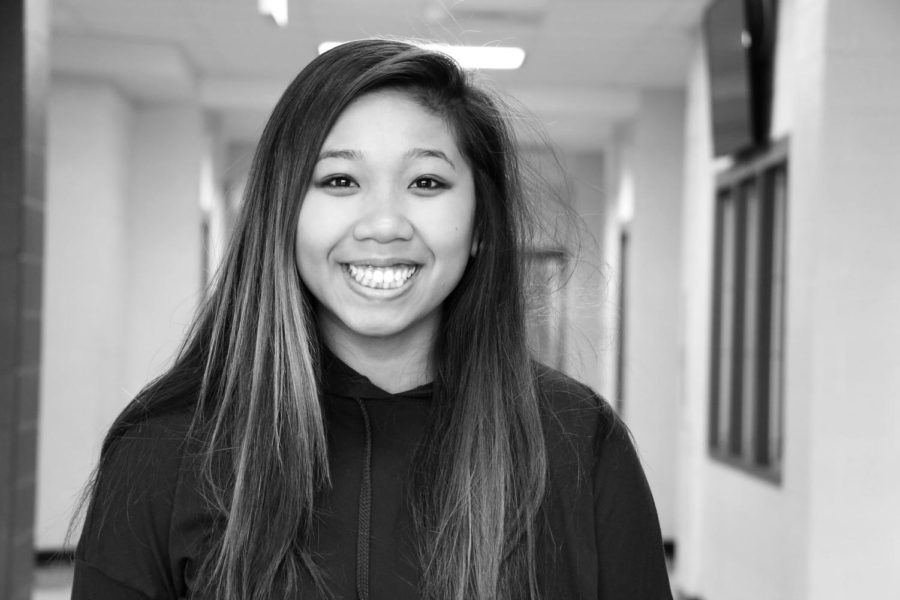 Nyah Phengsitthy
Q: What does being a first generation student mean to you?
A: To me, it means that I'm going to accomplish what my parents didn't and that means going to college, getting an education and getting a degree. My parents have been there for me through [the process] and I'm trying to do what they didn't as to like not prove them that they didn't do it, but because I want to do what they didn't do and fulfill what they wanted to do.
Q: What have you done to obtain above a 4.0 GPA?
A: I'm definitely someone who likes the extra challenge. So, starting in middle school I jumped to take honors classes or advanced classes. I did that throughout high school but instead of just doing just honors or anything advanced, I also added AP and dual enrollment. Homework and academics definitely comes first in my life. I feel like my work ethic is just like a really strong one because it's hard for me to give up on something and it's the reason why I have above 4.0 GPA.
Q: What other type of activities do you do at school?
A: So, Newsstreak does take a lot of my time, which like some people are like "dude that's crazy, it's just the class", but because I'm so interested in journalism, I don't mind that. Outside of newsstreak, I also like to write for Harrisonburg Education Foundation, which is a non-profit local organization. I also do a newsletter for Bluestone Elementary school. I do a middle school workshop in the fall that teaches middle school students in Harrisonburg City Public Schools on journalism. When I'm not doing journalism related stuff, I have a job at a retirement home. It's Virginia Mennonite retirement community and I'm a server in the residential living area. A lot of [the residents] are still able to get up and live on their own. So, it's easy to communicate with them. That takes a lot of my time and when i'm not doing that I'm with family, friends or volunteering somewhere. I'm [also] really involved with my church.
Q: Did you originally think you were gonna go to college?
A: I never really questioned it because I just always knew that I was going to go to college. My parents always told me like "oh, you're going to college". I never really said to myself "oh no, I won't be able to go to college because I won't be able to afford it" or something like that. I always knew that I was going to go to college because I love school and I wouldn't mind doing it forever but just the setting.
Q: What are like some difficulties that come with being a first-generation?
A: Well, because my parents work in areas where they are surrounded by a lot of educated people, it's easy for them to become educated themselves by them, but it was hard. Like Junior and mainly senior year, I didn't know anything about the college process. However, I am lucky that Kibler showed me the Common App or Naviance. My parents just didn't know [specific steps] like filling the FAFSA or like what to put down when applying to colleges. So, a lot of that I had to do on my own. [However,]I'm extremely thankful when I say this, but the counselors help so much because my parents weren't aware and never really done it before.
Q: Where were your parents are originally from? and reasoning for coming to the U.S?
A: They're from Laos. They were refugees from Laos. My dad actually came here first and lived here for a while then he came back. Then, he brought my mom back and then I was born here. I have an older brother who's twenty-three and a younger sister who goes here and she's fifteen. My dad actually came here first and he had like a girlfriend and then they had a kid. Then, they grew apart and he's not with her anymore and then that's when he went back and met my mom. They were refugees and just wanted a better life here. They're like "stuff is not good in Laos" and it's a communist country if you didn't know that. My dad is a custodian at a church in Harrisonburg and my mom works as a food safety person at Cargill. On the side, she does deals for extra cash, so she makes a good amount of money. They obviously don't hold like the greatest jobs, but they've done a great job providing for my family and more than I would ever need to be in high school.
Q: What has helped you prepare for the future?
A: Definitely newspaper journalism, like of course that would be my answer because I was so invested in it, but it really is true. [Newsstreak] class taught me how to talk to people. It taught me how to like approach people in a professional way and how to write better and edit faster. People have respect for me because of this class. Then, there's other classes like DE speech and English or other type of stuff. I think going to HHS has definitely prepared me for the future because I actually went to Eastern Mennonite High School for middle school and that's a private school. They don't have that many classes and your kind of stuck with the same people every year. Like HHS has so many classes unlike they do, so I'm glad that I came here and was exposed to different stuff. I feel like if I stayed at EMHS I wouldn't have been really exposed to that many things
Q: What advice would you give to a first generation student who is trying to go to college?
A: Well, I'm glad that they're thinking of college because college isn't for everyone, but the fact that you have the goal of going to college is good. You might think that you're lost because you don't really have the resources that your parents can provide, but there are other resources that you can have at high school and if not then there are plenty of people who are out there to help you with the whole college process.
Q: Anything additional you would like to say?
A: I think going to Harrisonburg High School or transferring from a private school to a public school, from EMHS to HHS, was really beneficial to me because it definitely helped me decide what I want to know. It's a really big step and not everyone can say that. HHS, the teachers and classes here are the reason why I'm prepared for the future.
Q: Where are you going to college and what do you wanna major in?
A: I'm going to Elon University in Burlington, North Carolina and I'm probably going to double major in journalism and management, but I've also thought about education as well.