JV basketball team won against the Staunton Storm
The girl's JV basketball team redeemed themselves this year at 17-5 for the season
Doing jump ball for Harrisonburg High School is eighth grader Addison Weakly who attends Skyline Middle School and has played basketball since childhood. Weakly won the jump ball against Staunton Storm. 
"Even though it's a higher level of competition than middle school basketball and even though we lose some games, it's not like JV is some crazy high level of basketball," Weakly said. 
The leading scorer for the game was eighth grader Sierra Cain with a total of 20 points.
The starting players included two eighth graders: Addison Weakly and Alyse Sheffy. Along with these eighth graders were freshmen Giovanna Lopez, Mariah Etienne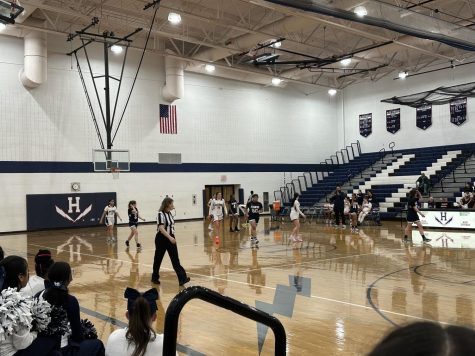 and sophomore Lily Rupe. Rupe is the only player out of the starters with experience from last year to lean on.
The team played their second to last game Monday, Feb. 6 against the Staunton Storm. They last played Staunton on Jan. 19 at Staunton High School and the Blue Streaks came out of the game with a winning score of 48-22. In their most recent game, the Blue Streaks won with a score of 37-17.