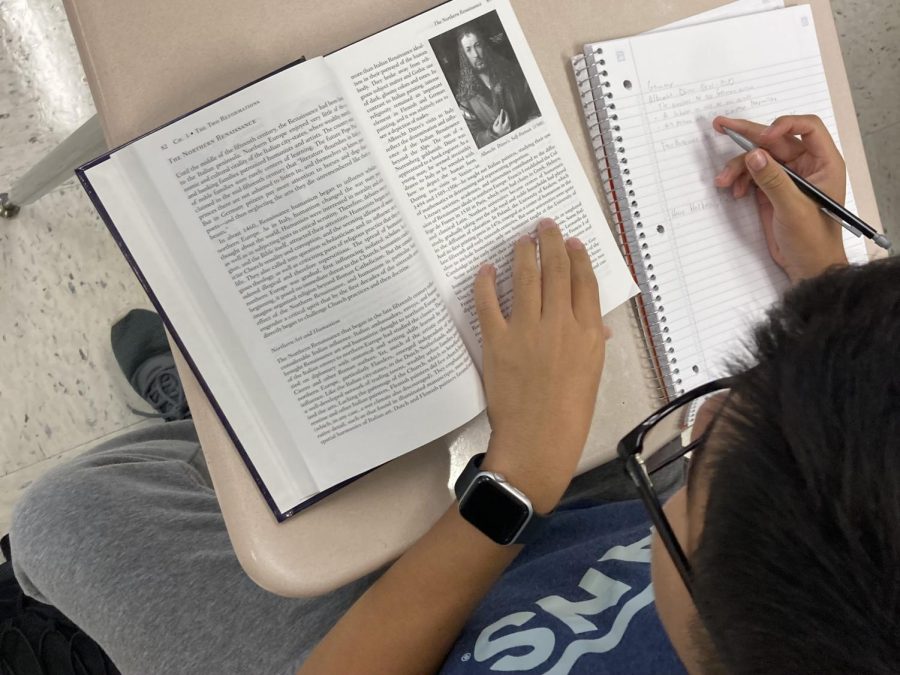 Evelyn Lewis
"I'm not a good test taker, give me a multiple choice test [and] I'll take anything else. I'll write an essay, do a project, whatever it is you want me to do. I just don't like them," Hensley said. 
Principal Dr. Melissa Hensley, the main advocator behind the new 80/20 grading policy. This policy states that formative work, like homework and classwork, counts as 20 % of students' grades. Work like assessments, tests, and projects counts as 80 %. Even though tests aren't Hensley's favorite, she understands that they're typically an accurate representation of students' knowledge.
"The biggest goal for us was to bring consistency throughout the building. We had [teachers] in the past year counting homework so heavily that a student could actually fail the class, but get high grades on tests," Hensley said. "Formative [material] is your homework, which at 20%, can't fail you per se, but you need to be able to do the homework to do well on the test. [The tests] carry a heavy enough weight to cause a student to fail. Formative assessments are supposed to represent learning as it's taking progress, not the final end product. It's counting less and less of a percentage for that reason,"
This policy has been in the works since late March  2022 when Hensley saw student's grades did not represent their knowledge. With the help of the administrative team, Hensley began looking into what other Virginia schools were doing to address this problem
"We checked in with every other school to see what they're doing, schools our size [and] schools like ours demographically," Hensley said. "How are you grading [and] trying to [make] it more fair for everybody and so students and parents can better understand it?" 
Though there may be an adjustment period for students, Hensley hopes that it improves their knowledge of content in the long run. By testing the standards, schools and future employers can see that they fully understood the curriculum. Social studies teacher Mark Healy hopes it will help students once they reach college. 
"Homework [is] different in college than it is [in high school]. I think [the new policy will] help because most of what you're measured on [in college] are your assessments. Understanding [that] all of the formative things are helping you build up to the summative [will] be a learning curve. It's just going to be hard because you won't see the points equal to that," Healy said. 
This grading method could be a problem for people like Hensley who would rather do anything but take a test. That's why the 80 % summative grade doesn't just include tests, it includes projects and other test taking methods. 
"One of the things that we will continue to have discussions about on our side [will] be our students who really just don't test well. Maybe it's not just taking a multiple choice test because some students just are not good at that. I'd rather write an essay on [a] project to share my learning [instead of taking] a multiple choice test. Is it the test format, or is it actually that they don't know the content? That's what we need to really focus on is making sure different ways to show mastery of content versus one single way to do it," Hensley said. 
Even if students are good test takers they will still need to prioritize what assignments they choose to complete and how that affects their grade. Sophomore Giovanni Sanchez-Garcia thinks of himself as a skilled test taker who typically gets good grades. That doesn't stop him from stressing more about tests after the change in grading.
"I'll have to study a lot more for my upcoming tests, and a lot of the work I do on normal assignments won't matter as much, so a lot of my effort is going to go into studying. A lot of students were not preparing themselves for the tests, which is where your actual knowledge is tested, and they were all just getting by on homework. That could go wrong multiple different ways, and now I'm glad all my classes are consistent," Sanchez-Garcia said. 
In order for the policy to work, the school needs the students, teachers and parents cooperation. Healy has no problem changing his course structure, but thinks other teachers may want to do something different.
"I think the initial struggle was just transferring or changing things in Canvas. I'm still assigning my assignments like I always have still given points like I always have been. PowerSchool just separates them into those two summative and formative categories. We all have to be on board with this. We all have to be on board with the 80/20 in order for it to be effective throughout the school," Healy said.