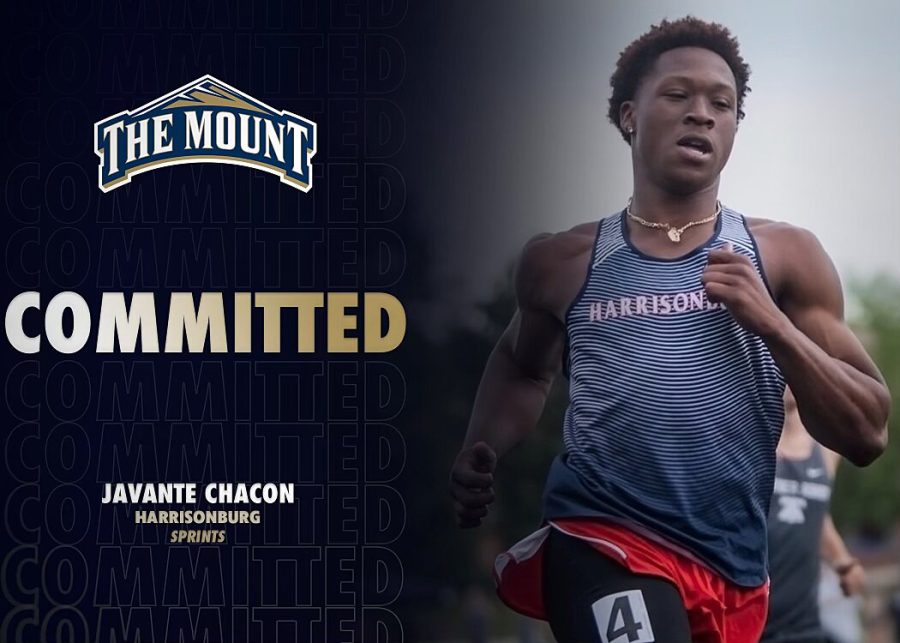 Used with permission by Tay Chacon
Over winter break, senior Javante (Tay) Chacon announced his commitment to run outdoor track at Mount St. Mary's University located in Emmitsburg, Maryland. Chacon first began his recruitment process with coaches through the Next College Student Athlete (NCSA) application. 
"I talked to my parents about the NCSA app and it was a good [tool] for me to communicate with coaches. I bought the app and I have been talking with coaches since then," Chacon said. 
Chacon first connected with the school a few months ago and went on an official visit in October  2021, where he was able to meet the head coach.
"[The coach and I] have a pretty good relationship. I first met him when I went to visit a few months ago and we have been communicating since then," Chacon said. 
After Chacon connected with Mount St. Mary's, it quickly rose to the top of his choices because of the academics and athletics offered. 
"Mount St. Mary's has been [one of my] top schools because it's not that far away from home, but far enough to feel independent. It is a division one program, so the competition will be good," Chacon said. "I really like where the [school is located] and [the] academic programs. They have my major, business and biology."
Chacon is excited about getting the chance to continue competing at the division one level. However, he understands the importance of balancing his coursework and sports. 
"[I am excited about running in] the meets [and] competing against other big schools," Chacon said. "[I am nervous about] trying to balance school and sports, similar to high school, [but] just maintaining that balancing act."
Throughout his high school career, Chacon has set many personal records (PR) and has had the opportunity to run at states previously, in both the 100 and 200 meter event. 
"All of my high school coaches pushing me and telling me what to do has helped me out in so many ways," Chacon said. "I want to get new PRs. I want to run in states for at least three events this season too."
In the spring of 2021, Chacon suffered a torn MCL from a football practice. Despite the injury, Chacon waited to have his surgery until the conclusion of his outdoor track season. 
"[My knee injury] was a big obstacle at the time. It is going to help me a lot this year because [I was still able to] run fast last year and now I am completely healthy again," Chacon said. 
Chacon advises any athletes in the recruiting process to trust the process. 
"Be patient," Chacon said. "It won't all come at once, but keep working."