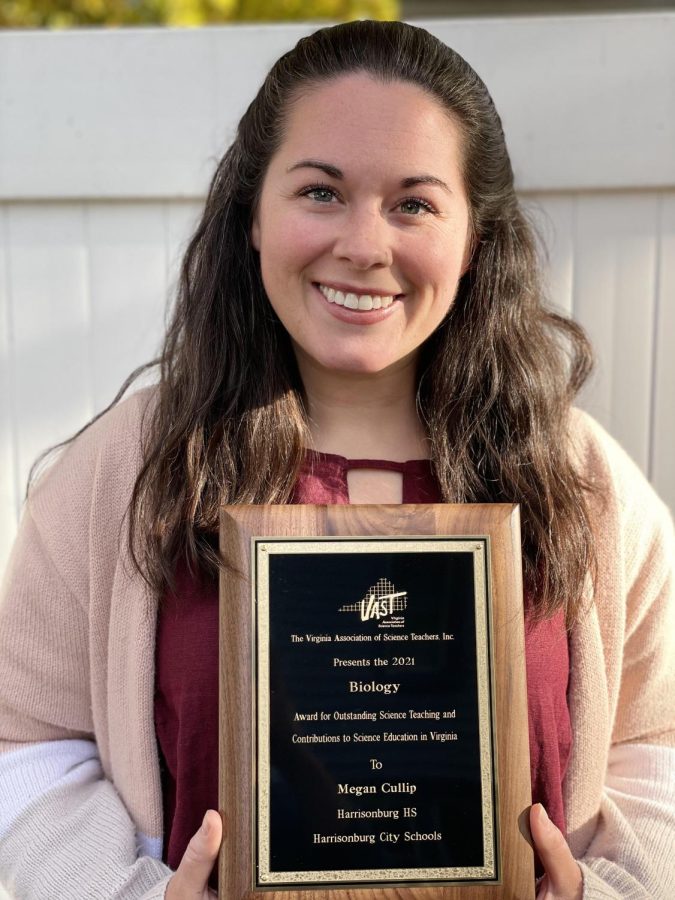 Photo courtesy of Megan Cullip
Thursday, Nov. 18, the Virginia Association of Science Teachers (VAST) awarded science teacher Megan Cullip a biology award for outstanding science teaching and contributions to science education in Virginia. Her award is also known for recognition for science education (RISE). Cullip not only teaches biology, but also helps coordinate STEM activities in the school that contributed to her receiving this recognition.
"It's hard to ever feel like you make much of a difference, but it's very helpful to learn on a whole team of other teachers that see the impact you make. I lead the Women in STEM (WiSTEM) committee and over the years we've held events that encouraged young women to pursue careers in STEM," Cullip said. "I also do a lot of summer STEM activities. This past summer, we did Anatomy and Physiology at [Eastern Mennonite University]. Each day, we dissected a different organism and did projects. [I also] led some trips where we looked at water quality and tried to understand the overall health of our water system. Those are the things [where] you never feel like you deserve an award."
After receiving the award, Cullip appreciates the work environment she is surrounded by because she believes it contributes to her making a difference.
"It feels really good [to hear] the feedback as people hear about getting the award. It's been such a tough few years with teaching through COVID[-19] and to realize that you do make a difference and people notice, it's really important. It's really nice because I can't get the award without being nominated by my peers. Having other teachers see that I've done something great [is] really encouraging. [It] makes you want to come to work more when you know you're a part of a team that encourages each other," Cullip said.
Governor's STEM Academy Co-Director Myron Blosser recommended Cullip for the RISE award. With 400 other nominees, the deciding committee chose Cullip as the winner.
"The future is bright with teachers like Megan in our schools. She relates to students on a personal level and is the catalyst for their success. Our school to work emphasis has grown a  great deal since Megan joined the faculty. I know that any program or initiative we undertake will be successful if Megan is involved," Blosser said.