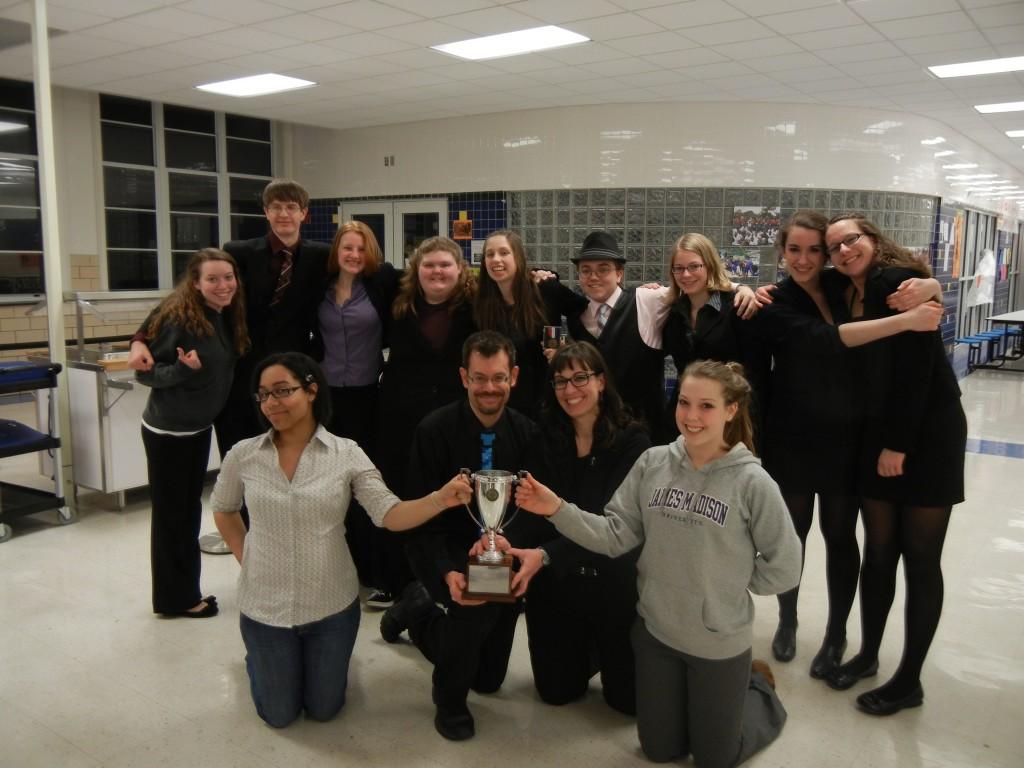 You could tell that the students really took this seriously when they started crying. At the awards ceremony for Virginia High School League's State Forensics competition, the look on the champions faces was priceless. Some cried, some screamed, and some collapsed to the floor. The 360 high schoolers from around the state of Virginia that converged on HHS for the A, AA, and AAA competitions had worked hard to get there..
For the many confused by its name, Forensics is competitive speech, not investigating dead bodies. The top twelve competitors in ten categories compete at States. That is three from each region. The top six in each category medal.
The day started at 8:30 a.m. with an opening ceremony, and proceeded through three rounds of preliminary competition. Competitors were given both a numeric score between 70 and 100, and a rank as compared to the other students in the room, 1-6, by two judges, many of whom were coaches (Coaches did not judge their own students). Scores were tabulated for the preliminary rounds to discover which six competitors in each category would be competing in the final round. HHS coach Cara Walton judged Impromtu, Humorous Duo, Serious Dramatic Interpretation, and Storytelling. She says she saw a wide range of talent.
"Everybody in the final round is good," Walton said. Groups of students anxiously clustered in the cafeteria waiting to see if they would be advancing to this final. When the names were finally posted there were both tears and cries of joy.
After results from the final round had been analyzed, the awards ceremony was held in the auditorium. Every single first place winner received a standing ovation. Senior Allison McKenzie placed sixth in Storytelling, Freshman Mia Karr placed fifth in Impromptu, Senior Lindsay Carpenter placed fifth in Serious Dramatic Interpretation, and Senior Ama Ansah placed third in Original Oratory. This capped off a season in which the team took home the first place trophy at both Districts and Regionals.
"I thought we did well. I thought we, overall, were very successful," said Walton.