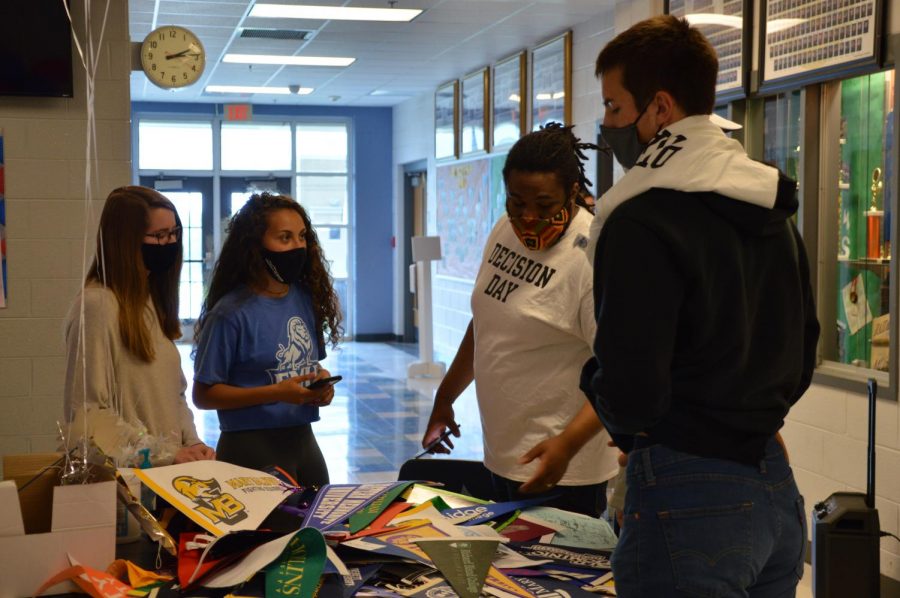 Adrian Kavazovic

Friday, May 7, counselor Danielle Brino, college advisor Anna Du and Student Community Association (SCA) class representative senior Dani Medhin, along with the help of many HHS teachers, formed an event for seniors to celebrate their post-high school decisions. Brino believes that this event was a good way for seniors to put an end to their time at Harrisonburg High School, and to think about graduation and their plans for after high school.
"I think [the senior decision day] was a good day for them to come into the building, to see some of their teachers, to start to put some closure on their years of high school, get their cap and gown, celebrate their decisions. I think by the time students are seniors, they know each other pretty well and they're in their groups and activities, so I don't know if it was a great time to get to know each other, as I think it was more of a good time for them to celebrate their decision and start to think about graduation and beyond," Brino said.
Medhin also thinks that the senior decision day event helped her and her peers interact with each other since many students haven't had to opportunity to see each other since last year when quarantine started.
"Yeah, [it definitely helped me and other students interact with each other.] That was the whole purpose of it. Decision day for colleges and universities is on May 1. We didn't want to take away from that, [so] May 7 was the day we decided to do it because we wanted to incorporate other student's plans they might have. Not everybody is going to go to a university and not everybody's going to… to go straight to the workforce. There [are] some people who are going to the military and so many other pathways that they're taking, and definitely just getting to see not just my friends but also people I would've never talked to unless we were in the same class was really nice and it felt really nice. This is feedback I've also received that walking through the high school was a really nice feeling. For us, March 13 was the last day we were in the high school physically, and then the next thing you know we're not there again, so this was the first time for some people to visit the high school again. It was really nice to connect and see each other again. We missed each other a lot, we didn't know that we missed each other, but we really did," Medhin said.
As the HHS college advisor, Du is required to hold an event for the graduating senior class.
"I'm actually required to do a decision day celebration event for my job, my position. I'm a college advisor through the Virginia College Advising Corp and so that is something that we have to do, it's part of our job. But also, the way that we advisors plan these events is we have a lot of agency freedom in terms of how [the decision day celebration] goes. The approach was to make it [an] in-person gathering for people to celebrate decisions and also to explore options that they haven't decided on what they're doing after high school yet. We wanted to have both of those elements present," Du said.
Based on feedback that Du received, some seniors believed that the decision day event was more interactive and social compared to events held in years prior.
"Based on feedback from seniors themselves, one had told me that they felt this year had been more social, like the events that they had were more social than years past, but then it might just be because it is senior year and there are more events planned anyway for seniors because they're graduating. People seemed very excited to see each other, see their peers, see teachers and also [have the chance to receive] prizes," Du said.
Medhin received both positive and somewhat negative feedback from her peers. Some seniors thought that the event could have been better if it was outdoors, but due to weather conditions, the event was moved indoors. Some seniors, on the other hand, understood the circumstances and had a good time.
"I think [the other seniors enjoyed the event and activities offered]. It made me really sad that we had to move the event indoors due to the weather. Originally when we planned it out to be an outdoor event, we were going to have a lot more stations to have activities and music was going to be playing and we were going to have games and stuff for seniors to have the space to play around [and] spend some time just socializing. [We had to move it inside] due to the weather, so I was kind of a little sad and even feedback I received was that it could have had a little more activities and games but that was a little bit difficult to do with it being indoors. If it wasn't for the weather, it would have been much more fun, but it still turned out really well. I heard some good feedback from seniors and they were also able to understand that it was because of the weather. They also were not as upset about it because we also have a lot more activities and events planned for the senior class. I think it was fun but there were also some missed opportunities," Medhin said.
If Brino was an HHS senior, she thinks that the senior decision day celebration would help her celebrate her post-high school decision.
"Yeah, [I think it would help me celebrate my after high school decisions.] We want to [celebrate] everybody's decision. We say 'going to college' but college can mean a lot of different things. We just want to celebrate with everybody what comes next for them and to help them figure out their plans [for after high school,]" Brino said.