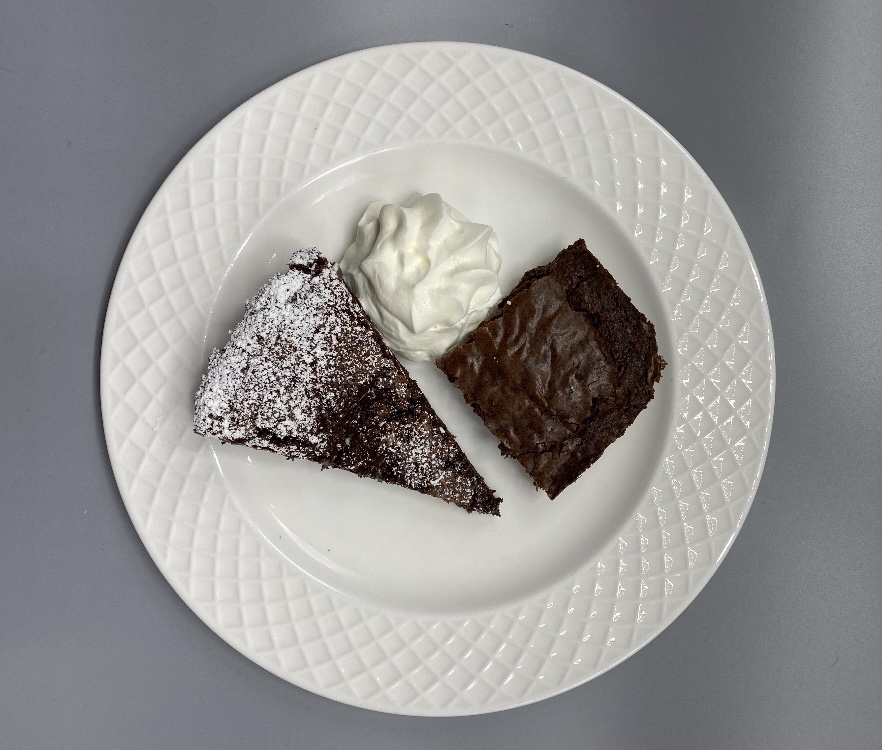 Soraya Kaussler
Have you ever eaten something from a different country and thought, "Wow, this tastes like something I've eaten before." Well, the Swedish dessert, Kladdkaka, tastes slightly similar to the American dessert, brownies. I baked both to compare and contrast and see which one I think is better.
Kladdkaka is a classic Swedish dessert that can be described as a mixture of brownies and molten cake. It is a dense, sticky chocolate cake with a crisp exterior and a moist, gooey interior. Kladdkaka translates to 'mud cake' or 'sticky cake'. It's a Swedish staple, and has its own day, Kladdkakans Day, which is celebrated on Nov. 7. Once your Kladdkaka is ready to eat, most people eat it with powdered sugar sprinkled on top and whipped cream or ice cream on the side. The cool thing is that you can really add anything you like to your Kladdkaka. You could add caramel, fruit, nuts or any of your other favorite mix-ins. Customizing it to your own taste is one of the things that makes it so special and fun.
On the other hand, brownies are an American chocolate dessert. They are described as dense and fudgy, and a brownie is usually crisp and cracked on the top. Depending on your preference, brownies can be smooth and sticky inside or dense and hard. When baking brownies, you have a lot of freedom. There are many different recipes that can please your taste buds. You may like fresh baked brownies, or you may like brownie batter bought from the store and baked at home. When looking through your options, you'll see that you have a lot of choices when baking brownies. You may go for extra fudgy brownies, chocolate chunk brownies, or even cookie brownies.
While both of these desserts seem to be similar, I think Kladdkaka is better. Kladdkaka has a sense of home to it. It's more rich and dark in flavor. It's also inviting and filling. Both desserts are very good, but when I tasted each, I knew what my choice was right away. Kladdkaka for the win.