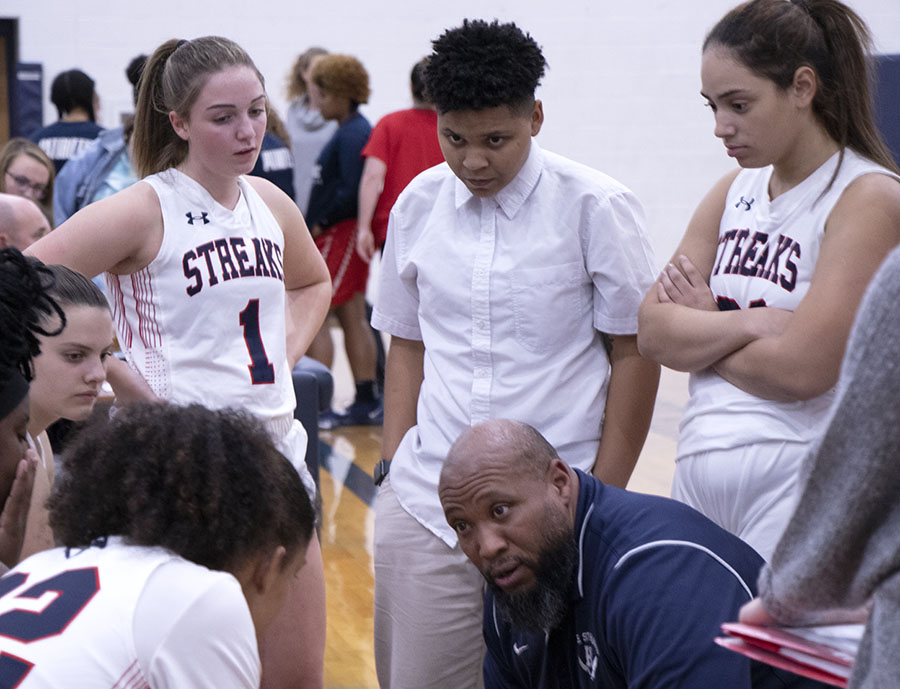 Lily Fleming
Girls varsity basketball coach Durmount Perry didn't start his coaching career in girls basketball. Perry has been playing basketball since high school and continued his basketball career by moving from the court to the sidelines as a coach.
"Coaching wise, I used to be the boys coach [at HHS]. I coached JV boys basketball first, then I switched over to coaching girls [varsity]," Perry said.
Perry started playing basketball in high school, and has continued to show his love for the sport by coaching.
"I played basketball in high school and I've always liked the sport," Perry said.
Perry started out coaching football, and then switched over to basketball.
"I've been here for a while, I've coached football here also. A couple of [other] coaches knew that I was around the area and that I had played basketball before, and I'd been working with a lot of kids here at the school and they asked me to come and join and help out with boys basketball, and then from that point on I became the JV coach. Then I went from coaching JV boys to varsity girls," Perry said.
Perry went to Spotswood High School and played on the varsity basketball team for two years.
"I'm a graduate of Spotswood. I played on varsity for two years, we went to states my junior year and we went back to states my senior year," Perry said.
Perry has only been coaching the girls team for around five or six years now. Switching to coaching girls was a good change for Perry, that happened pretty naturally.
"I think I started coaching boys basketball in 2007, could've been earlier, I'm not for sure. But like I said I've been coaching girls basketball for about 5 or 6 years now. The year that I became the girls coach, I had a couple girls that had been coming over and asking me if I would switch over to coaching the girls basketball team. They were already looking for a girls coach at that time. I talked to my family about how it may be a good move for me and then I became the girls basketball coach," Perry said.
Even though Perry went to Spotswood, his only coaching has been at Harrisonburg. Perry thought he would be a teacher and coach football, but he never really thought he would coach basketball.
"I did not [think I would coach basketball], I just thought I could be a teacher and coach football and then I ended up really enjoying [coaching] basketball," Perry said.
Perry has one assistant coach, but he works closely with the head JV coach and a few other volunteers that have been playing basketball for a lot of their lives.
"My assistant coach, Mark Neofotis, he's really good at what he does, he gets along well with a lot of the students here. Then I have coach Warrior who's the head JV coach, she played basketball at JMU and she's been around basketball all her life so she's very good at what she does. We also have coach Nay, she grew up playing basketball, and she's been here for around 2 years now," Perry said. We have a couple of other coaches, that come in and volunteer, [such as] Coach Andre Nation, he is overseas right now playing professional basketball but anytime he comes back home, he comes through to help out and to give back and we have another coach, Coach Shakeerah Sykes, she is over at EMU, coaching there but whenever she has free time she comes through to help out and give back."
Perry really enjoys coaching girls basketball and it is a good way for him to continue basketball in more of a professional way.