Secrist, 18 other band students make it to All-City Honor Band
With marching band season coming to a close comes a new season: concert season. Members from the HHS band auditioned on for the annual Harrisonburg/Rockingham All-City/County Honor Band. In total, 19 band students won 20 seats. Junior Ryan Secrist was one of these students. Secrist has done Harrisonburg/Rockingham All-City/County Honor Band once before, during his sophomore year.
"I felt relieved [when I got in] because I love the experience and I love playing in the ensemble with so many other band members. It also gave me the chance to work with other students collaboratively," Secrist said.
Secrist, alongside other students in the city and county, auditioned at HHS for Honor band. Each student had prepared pieces to perform and scales with their musical instrument. The audition also tests every auditionees' sight reading abilities. After the audition, students get a chair. The higher the score you recieved, the higher chair you were awarded compared to other auditionees in your section. Secrist got 2nd chair in percussion.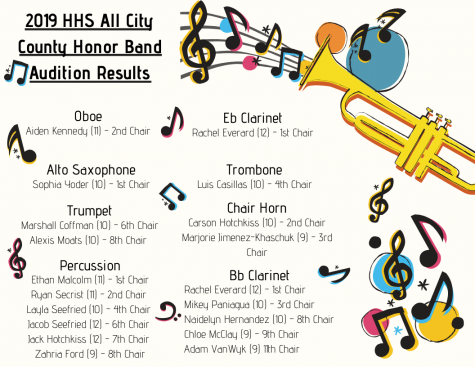 "The audition process went okay for me. I made a couple of small mistakes. I definitely feel like this wasn't my strongest audition, but I guess I still did good since I got 2nd chair," Secrist said. "I think chairs are important for qualifying for other bands, but I feel like it shouldn't be as big of a deal as other band kids make it."
Rehearsals for the Honor Band will be held at Broadway High School for two days in preparation for the concert. The first rehearsal is an evening rehearsal Nov. 14 and the second is an all-day rehearsal Nov. 15 for the concert held that night. Secrist finds the long rehearsals to be worth it.
"I think that it's beneficial that we have long rehearsals because you spend a long time with students you didn't think you would. You get to bond a lot through the rehearsals and spend a long time together," Secrist said. "I know that the rehearsals are so tiring, but it honestly is worth it for the performance. There's this drive and inspiration when we perform because you don't know these people."
The concert is at 6 p.m. at Broadway High School Nov. 15 and is open to the public.