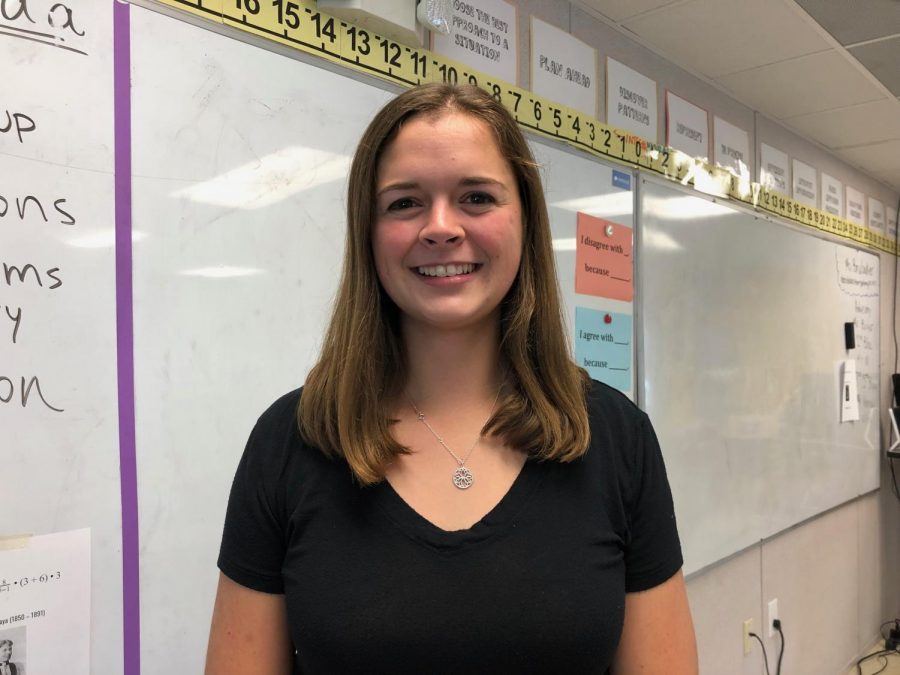 What have your first few weeks been like here?
"I've learned a lot from being here and have felt very overwhelmed at times but also very supported my entire time here. I know the entire math department can help me out and I know the other teachers can help me out so I think that's the biggest thing"
Where did you live? Did you live here?
"I grew up in kansas and went to school at EMU now I live here in harrisonburg."
What made you interested in living in the valley?
"My dad went here when he was in college and I have other family connections but then I also play volleyball and play volleyball for EMU. I also really like the educational program and math department [there]."
Did you always like math growing up?
"Yes. Math has always been like a puzzle to me, something to figure out. It's just exciting I love it."
Why did you choose to become a high school teacher? Why not an elementary or middle school teacher?
"Little kids scare me. That's why I'm not an elementary school teacher. [I chose] high school because it was what was offered to me. I love working with high school students."
What do you do in your spare time when not working of educational things?
"I love playing volleyball still,I try to read some, I watch Stranger Things and I hangout with friends. I still have a lot of friends from EMU still in the area."
What kind of genre do you like to read?
"Big science fiction. I love sci-fi."
What's your favorite book?
"Books by Michael Crichton. He is awesome. He writes books like Jurassic Park. Other stuff by him is fantastic if you're any kind of science-fiction person."
Was it intimidating coming in fresh off the boat and having these teachers who already have so much experience with high school students?
"Yes, especially when teachers say I have X number of years. I'm like 'I'm not even that old yet.' That's a little intimidating to me, plus my high school growing up was 81 kids. My entire high school campus would fit in the building."
What area do you like better, Kansas or Harrisonburg?
"I love the valley but I miss kansas because it's flat and you can see for miles. The sunsets are killer plus spring storms are amazing, even though we have tornados."
Did you always like volleyball?
"Yes. This is one of my first years not playing volleyball since fifth grade, so it's a little different for me."
What is it about volleyball you like so much?
"I was good at it. It's so much fun to play when you work with a team and I had fun groups of girls on my high school team and all through college."