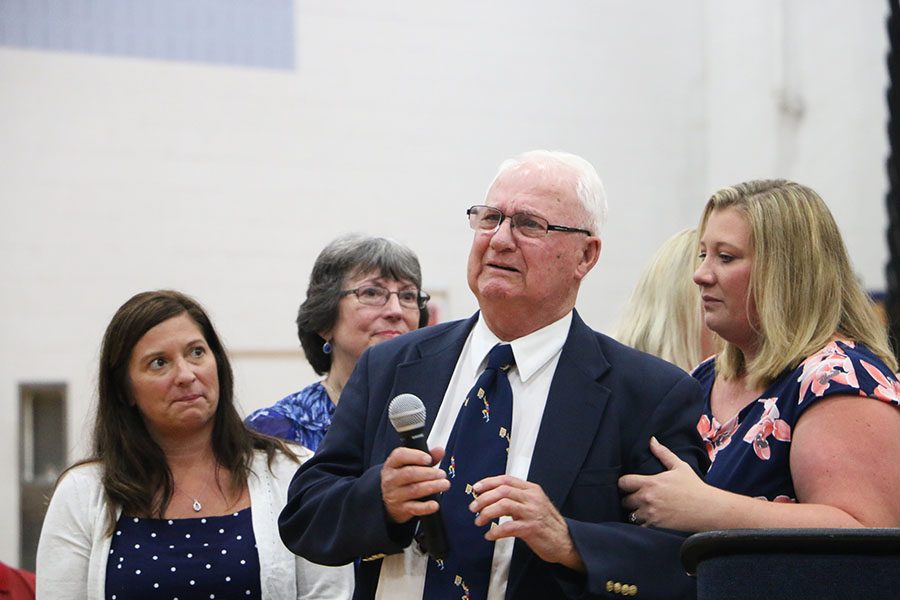 Caleb Goss
"I've never seen him get emotional before."
Former HHS Hall of Fame basketball player Don Burgess watched his high school basketball coach be moved to tears on what is now the Roger Bergey Court. On Tuesday, August 27, a ceremony was held in the gym to celebrate the naming of the basketball court in Bergey's honor. 
"I didn't expect all of this," Bergey said. "It's a nice honor." 
From 1972 to 2002, Bergey coached boys basketball at HHS and led the varsity team to two state championships in 1978 and 1979. During this 30 year period, he led his basketball team to 428 wins. Burgess played for Bergey in the late 80's, and according to him, Bergey's legacy isn't about the wins, but about the lessons he taught his players
"We won a lot of ball games, we had a great time and we worked hard, but more importantly, [Bergey] helped us be the best husbands, the best fathers and best role models that we can in the community," Burgess said. 
Former players, fellow coaches, referees, friends and family of Bergey traveled across the country to honor him at the ceremony. Some players and coaches even spoke about their favorite memories with Bergey and the impact he had on them. 
"It's great to see [my former players]," Bergey said. "[It brings back] good memories. They were some outstanding gentlemen."
One of Bergey's most notable players at HHS was Ralph Sampson, the number one high school player in the nation in 1979 and three-time college basketball player of the year at the University of Virginia. Sampson was one of Bergey's players who spearheaded the basketball court dedication.
"Me and some players got together and said we should do something special," Sampson said. "He had been a little bit on the unhealthy side with health issues. We figured we'd better do something sooner rather than later, so we decided to name the court after him and build a scholarship in his name."
Now that Bergey's name is painted on the basketball court, generations of HHS students to come will recognize the name Roger Bergey.
"The legend still lives on," Sampson said. "The legacy is real and everybody at HHS from now on should understand who he is and hopefully we can continue to make it happen."
Sampson played under numerous coaches during his basketball career, but still refers to Bergey as "one of the best ever coaches."
"[His coaching style was] very disciplined, creative and energetic," Sampson said. "[It was] very demanding but in good ways. He's one of the people you want in your life to be successful."
While the naming of the basketball court after Bergey is because of his success and the life lessons he taught his players, Bergey doesn't take the credit for it.
"[It's] very humbling, [but] it's a tribute to the players, the fans [and] the community," Bergey said. "I'm not saying I earned it. Those boys earned it."
Burgess was once coached by Bergey, and now, he's following in his footsteps as the boys varsity basketball coach. With the presence of Bergey's name on his home court, Burgess will forever be reminded of his former coach during practices and games.
"Since I played for [Bergey] and I've known him for most of my life, [the dedication] is a sense of extra added pressure," Burgess said. "[I hope] I can be half the coach of Coach Bergey and have an impact on my players and students when they grow up and be role models."