Physics students design sumo wrestling cars for final project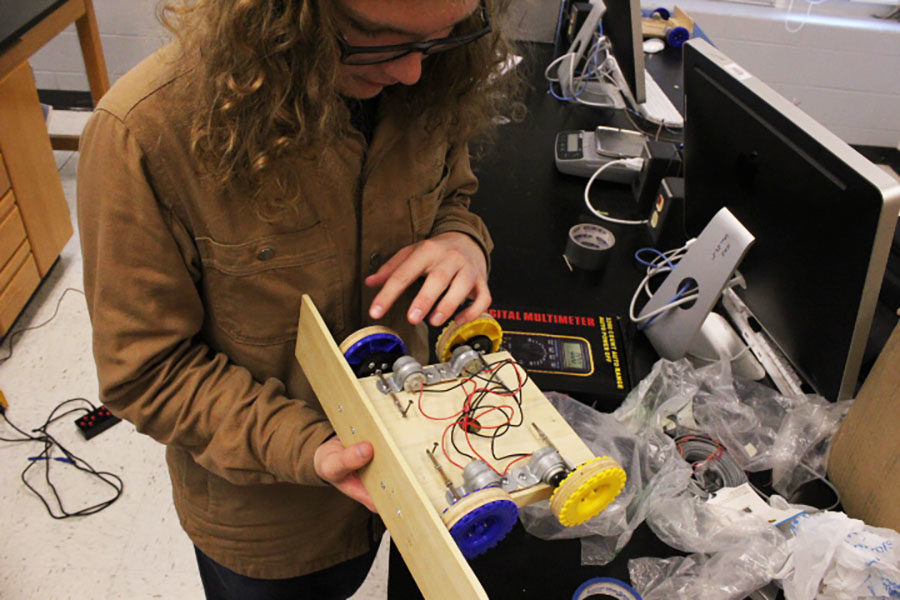 With only a week left in the 2018-19 school year, the scrambling to study and prepare for finals is well underway. However, in AP Physics, the usual silence of studying is absent. Instead, robotic buzzes and whirls scream through the room as students work in pairs on their final exam project.
The project requires pairs of students to design and construct a remote controlled car, compete against other cars in a sumo wrestling style competition and write a paper about the principles of physics at work in the car created.
Senior Isaac Mast along with senior partner Hannah Miller designed their car to look like a boat with a mast, a cabin and a hull.
"Our final unit in AP Physics was about circuits and electricity and so this final project is just a capstone to show that we understand the concepts behind circuits. We also have to write a paper about our car and the different physics terms that apply to it," Mast said.
The car is required to go forwards, backwards, left and right. Cars can't have weapons or anything intended to cause damage to other cars. Outside of these requirements and a few sizing and electrical restrictions, the project is very open ended.
"It's a really fun project because we can basically do anything in the construction of our cars that we want. There's not a whole lot of limitations with this project. We designed our car to look like a boat and that's not even the most obscure car there is in the room," Mast said.
Other students' cars include one with a bluetooth speaker attached that plays Metallica's 'One' and a car designed to look like a platter of sushi, both of which meet the requirements for the car.
"We have a lot of really stressful tests and assignments throughout the year and this is a really nice way to wrap it up. I've probably spent a combined week of time in Rose Library working on Physics homework and so being able to work on a final project that has the same weight as a test grade in class and have fun is great," Mast said.
The culminating final tournament is a seeded single elimination bracket with all cars jousting for a chance to reach the finals and seize the extra credit points promised for the champion.
Physics teacher Seth Berkeley explains the rules behind the tournament.
"We make a big ring for the cars, two cars go in and try to push each other out or capture a ping pong ball if neither car is able to push the other out. There is a 90 second limit for cars to push each other out. This is kind of a combination of engineering and physics; the construction and design is engineering and then the paper explaining the functions of the car is physics," Berkeley said.
Berkeley hopes that the project is not only a topical conclusion to the year, but a fun one as well.
"Physics is a difficult course so having a fun project at the end is a good thing, but it also works with the knowledge of physics that we have. There's a huge amount of physics going into understanding how these cars work and so [this project] is a good combination of fun and physics," Berkeley said. "It does tend to be more fun than physics, but that's fine by me."