On the Road Collaborative hosts movie night, raises funds for homeless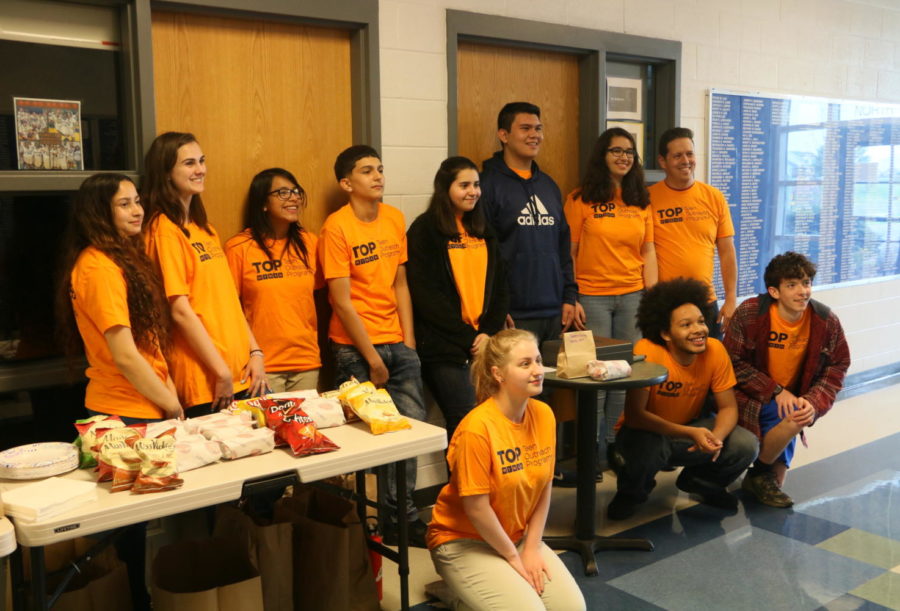 Lights were dimmed to create a theater-like environment. Homemade goodies laid across tables for onlooking eyes to gaze at and guests to buy from. An African king walks around with his preeminent presence on a projected screen. The night had been set for cinematic thrills and community engagement.
Students and guests throughout the community gathered for a screening of the blockbuster hit Black Panther, which was projected on a screen in the drama room. The Teen Outreach Program, from On the Road Apprenticeship classes, debuted a movie night to serve as a fundraiser for Open Doors, an organization geared towards helping the homeless in Harrisonburg and Rockingham County areas.
Teen Outreach Program coordinator Joshua Diamond has worked with a variety of young people for the past ten years. He manages four other Teen Outreach Programs, in addition to the one at Harrisonburg High School with On the Road. His goal is to provide a better understanding of their perspectives and a platform for them to openly express their voices. As a result, he has cherished watching the students grow a blossoming interest in community involvement and service.
"[The students] begin to understand their role in society and what they can do to control their lives and the betterment of other people's lives," Diamond said. "Just witnessing that growth and being apart of that growth is a gift."
Through his experience, he has helped coordinate a unique and engaging processes for the group of students. For example, Diamond asks fellow members on what they care deeply about or anything important in their personal lives, he then obligingly provides ways to approach these issues. Generally, the conversation leans toward heavier issues such as immigration, racism and violence. In addition to that, his time with the group has managed to pave a growth in understanding the world around him.
"Depending on what they say, I'll help them think about issues [that are close to them]. I'll also help them learn more about the issue and ways to address it," Diamond said. "They still care deeply about the world and haven't given up on a new world that benefits others. I learn from their experiences and they help me stay in touch with the reality of our community, economy and culture. I learn a lot from them that way."
With the movie night being a student-driven event, the members decided to maintain a focus on the homeless. In the past couple years, homelessness has become more visible in Harrisonburg. Junior Makai Organ, a member with the On the Road apprenticeship program, is one of many affected by this issue.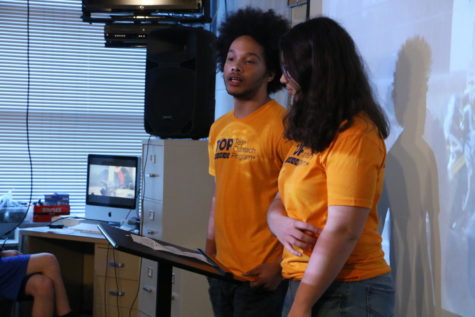 "Just looking at how big that population is and the ways you can become homeless [is shocking]. For example, you can go from a dealing with an expensive medical bill to being evicted by your landlord or you might get left by your girlfriend or boyfriend or even get kicked out of your house," Organ said. "Because of this, I felt like trying to help them back on their feet because when you're down that low, you start feeling depressed and just want support. I felt this would really help them to get back on their feet and just put them in a right place [during their struggles]."
Originally, Organ was hesitant of staying after school for On the Road. However, his new admiration for community involvement continued to draw him in. He has since made an effort to fuel interest in other students about the program, despite it being difficult.
"Some people don't [like the idea] of staying after for something they don't have to. Even after telling people about what the program is about, they still don't want to stay after a 7 hours of school," Organ said. "However, I keep spreading the word and telling people all about the program."
The event ended up being a success drawing in over three hundred dollars, which was more than the intended goal. By being apart of an effort willing to contribute to those less fortunate, Organ has benefited from expanding his mindset and understands the difference that someone is able to make in another person's life.
"Just by helping and knowing that I could help homeless people's lives through this fundraising showing is awesome. I finally understand the feeling that I can actually make a difference in other people's life and it's [a rewarding experience]."