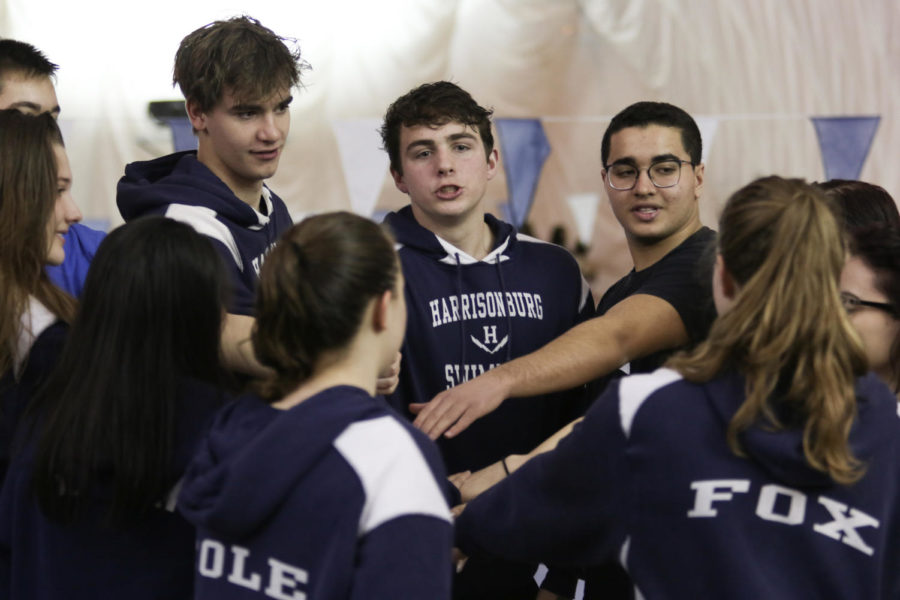 Kevin Pizano
Sitting in the pool waiting for the remainder of the swimmers to finish their race, senior James Henderson realized his career as a swimmer was over; forever.
"My second to last race was where it actually hit me. The 500-yard freestyle is the longest race we have in swimming and for me it takes a little over five minutes of straight swimming thinking about everything, thinking about pace and trying to keep your mind off all that because the more you focus on it the more you realize it hurts. I was reflecting on my time swimming, and it was rough. After that you sit in the water while you are waiting for everyone to finish because it is a really long race. I was sitting there thinking that this is the last time I am going to do this. I don't know if I am going to swim in college, but it could have been the last time I ever did that," Henderson said.
One of Henderson's favorite moments from the season was simply spending time with his teammates and watching them progress.
"Hanging out with the team, getting better and watching the team come up was awesome," Henderson said. "Other than that, Black and Blue was a ton of fun. It is the swim meet we have with John Handley and some other Winchester area schools. We ended up getting third and I got tenth individually, so my cumulative points scored was ten. That was a proud moment."
Before the team's last meet, Henderson rounded up the team to give a speech about their season. He was nothing but happy with how they performed and worked throughout the whole year.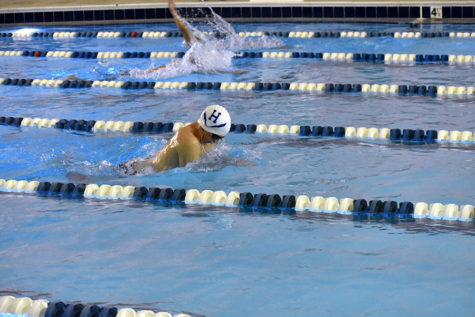 "The other thing that hit hard was at the beginning of regionals. I gathered the team together and I talked to them for a few minutes about the goals we wanted to set and how I was proud of them," Henderson said.
Henderson was unsure of a prediction for the team at the beginning of the year, but is really proud of the team's improvement and success for both the girls and guys teams.
"Coming into this year I was pretty unsure of what point we would be at. We had lost two pretty fast seniors. Personally I knew I would be dropping times and knew where I would be, but I didn't know if we would have any depth whatsoever. Some guys came out for the team I didn't know were planning on it and we had probably one of [the] deepest years ever. This goes for the girls team, too. They had by far their best year ever," Henderson said.
There is one person that Henderson feels has been the most influential to him over the past four years: coach Richard Morrell.
"I love him; he is the greatest. He has put so much time into the swim team and he's a really, really good coach. He is invested in all of us. I have a very, very deep appreciation for him," Henderson said.
Morrell saw Henderson's leadership skills both in and out of the pool.
"After every practice, James did the post-practice briefing. He was always the one who gave the words of wisdom or words of encouragement to the whole group. He became the spokesperson. Even at the final regional meet, he was the one who gave the pep talk to the team. He was the one who everyone turned to in terms of getting their encouragement and getting their focus," Morrell said. "In practices he would always be at the forefront leading the drills, leading his lane, just typical stuff of those you see who are taking over roles of leadership."
Henderson has been with the team since his eighth grade year. Morrell has watched Henderson grow as an individual, a swimmer and a leader throughout this time.
"Early on he was quiet. He was just the guy who would participate and join in, but also became one of anchors of the team. He was one of the top four or five swimmers. Even when it came to making a personal sacrifice for the betterment of the team, James was willing to do that," Morrell said. "An example is when we were going to a meet [and] one of our swimmers didn't show up, so we had to reshuffle our relays to make sure we had enough relays. James came to me and told me: 'Let's make the strongest relay and don't worry about me being in my individual races.' He was making personal sacrifices… He put the team ahead of himself."
Henderson leaves the team by giving the advice that you should push through all the hardships you face.
"Enjoy it. Have fun. I would also tell them to not skip anything. Something I've noticed is when something seems hard, you have to push through it. You have the mental fortitude to push through. It is just another stroke, just another kick," Henderson said. "Also, don't breathe off your walls, that's bad."
If there is one thing Henderson could change, he would have put more work in as an underclassmen.
"If I could change anything, I would work harder my junior year, but it has been a good ride. I've loved every moment of it," Henderson said.