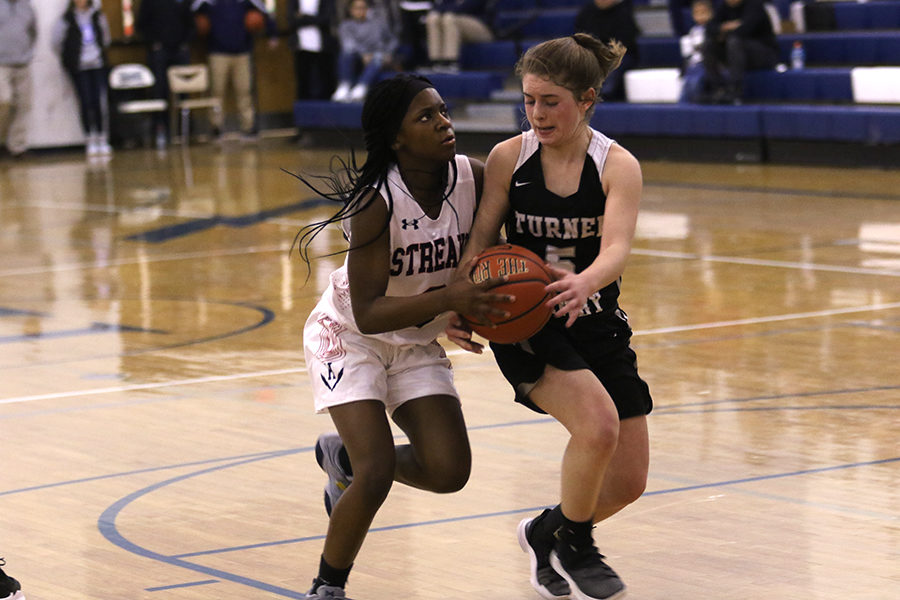 Noah Siderhurst
Going into Friday, the Streaks varsity girls were sitting at .500. For the Streaks, it was simple: defeat the Turner Ashby Knights and you are a team with a winning record, lose and you have to live with being a team that has faced defeat more than they have defeated. After two weeks of away games and weather issues, the Streaks were playing their first home game. Early on, the better team was clear as the Streaks took an early lead of 9-4. Still, despite the performance, there was one thing holding back the Streaks in the first, as they racked up 11 fouls in just the first quarter, putting them in the bonus right off the bat.The Knights capitalized on the mistakes and were able to push a comeback scoring all but four of their first ten points on foul shots. With a three pointer the Knights tied it back up at 13-13. Freshman Jay Garcia was one of the teams five starters Friday night, and recognized the difficulty the fouling brought to the teams success.
"It was a bit more challenging because fouls usually come from defense, so that meant we had to be careful on defense," Garcia said. "With that the game slowed down, and we like to play fast, so we had to adapt to a slower pace."
It was Garcia who played a major role in the Streaks' second half push as she lead the Streaks in both third quarter and second half scoring, putting up many of those points in the third quarter. With the foul count restarting at half, Garcia and the Streaks third quarter scoring allowed them to further push a second half lead of over ten points.
"For me I just knew that I had to step my game up from the first half because the coaches expect good coming from me," Garcia said, "The good thing is that once I get one bucket I'm consistent with it and my confidence goes up."
Holding their lead, with the clock ticking down, the black and silver dressed Turner Ashby Knights were not able to come back and the Blue Streaks claimed victory 59-44.