Debate competes in Broadway tournament
Advertisement
Hang on for a minute...we're trying to find some more stories you might like.
The debate and forensics team traveled to Broadway High School Nov. 29 to compete in the second Shenandoah Valley Forensics League tournament of the season. The tournament was originally planned to take place on Nov. 15, but after inclement weather issues, it was rescheduled.
Junior Ritt Culbreth competed in Public Forum debate with senior partner Sam Heie and placed second overall.
"I felt pretty good about our performance on Thursday. We ended up getting second overall and that shows that our work paid off. It was my first time debating with a new partner and so I think it was a good way to demonstrate how we work together," Culbreth said.
Culbreth's usual partner, senior Philip Duong, could not attend the tournament, necessitating his partnership with Heie. While their performance gained them a podium position, Culbreth still sees areas that they could improve.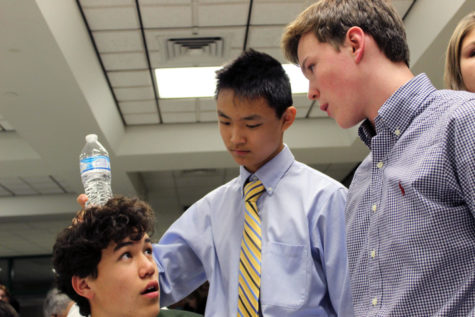 "I think we probably need to improve on complementing each other a little bit better. We have pretty similar styles of debate and so we could improve in changing that and tweaking our styles just a bit so that one style works better with the other. This appeals better to judges," Culbreth said.
Harrisonburg received two top six placements and two podium top three placements. Sophomore Stella Alexiou received a top six honors with sophomore partner Emma Lankford.
"I felt like debating wise we did really well. We held our own and our speeches were on average better than before. Competition wise, I think we could do a bit better but we have more tournaments coming up so we'll get there," Alexiou said.
Alexiou thinks while the team performed well, everyone needs to do more research before coming into tournaments.
"I think we need to do a little bit better with research. If we want to win more, we have to dig deeper into both sides of the resolution. Giving more context than the opponents is how we win so we just have to read as much as possible," Alexiou said.
The next tournament will take place at HHS in two weeks. Culbreth hopes that he can place at his home school.
"The next tournament is coming in just a few weeks at HHS and so I'm hoping that I can win on my home turf. I really want to go to states again this year and see if I can go further than we did last year," Culbreth said.