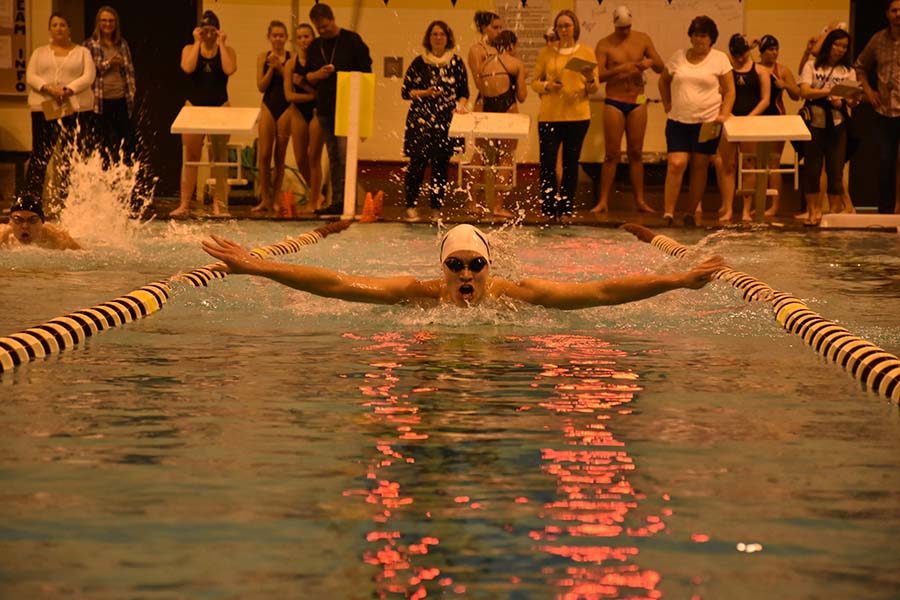 Mia Constantin
Thursday's dual swim meet against Turner Ashby marked HHS' first victory of the season. Held at Bridgewater College, the HHS girls team amassed over double the points that TA scored, tallying 115 points against TA's 48. The HHS boys team also handedly beat TA, winning 78 to 58. Head coach Richard Morrell believes the meet represented the start to a great season.
"It was a great opening to our season. It was a dual meet, so it went really quickly. Everybody had a good time [and] I didn't have any significant injuries from it," Morrell said. "I think the rest of the season is just going to get better."
Knowing the strength and ability of his team, Morrell felt confident going into the meet.
"I [knew] our girls team is probably the strongest it [has] ever been, and I knew our men's team had some new recruits that were really going to help us out," Morrell said. "I felt really confident going into the meet. Of course, their performance in the water proved me right."
Not only did the meet mark their first victory, but for the many seniors on the team, it marked their last first meet. Senior Elisavet Savides was emotional about what the meet signified.
"I was really sad," Savides said. "Honestly this whole year has been many last firsts because I'm a senior, and it's making me really sad."
Savides' individual events were the 100 meter Freestyle and the 100 meter Breastroke. Though she felt her races were tiring, she believes they went well.
"[My events] were good," Savides said. "I was really tired by the end of them because it was a meter pool and it felt like the [events] took a really long time, but it was good."
Savides also swam in both the 200 meter Medley Relay and the 200 meter Freestyle Relay. Savides prefers the camaraderie and excitement of relays to individual events.
"I like relays more because it gives you more of a feel of the swim team," Savides said. "You're together [and] swimming an event with people you like on a personal level and cheering on each other. Also, relay starts are fun."
On Saturday, the HHS swim team will be traveling to Christiansburg for the Southwest Invitational, one of many invitationals the swim team is signed up for. Morrell is looking forward to the large invitationals in order to give HHS attention on the state level.
"We're following [the dual meet] up with the traditional opening to our season down in Christiansburg. We're really excited about what we're going to do down there," Morrell said. "We have probably our best schedule in many years. We have many invitationals we're going to and an opportunity to shine against some of the best competition in the state."
Find full results to the HHS/TA dual meet here.