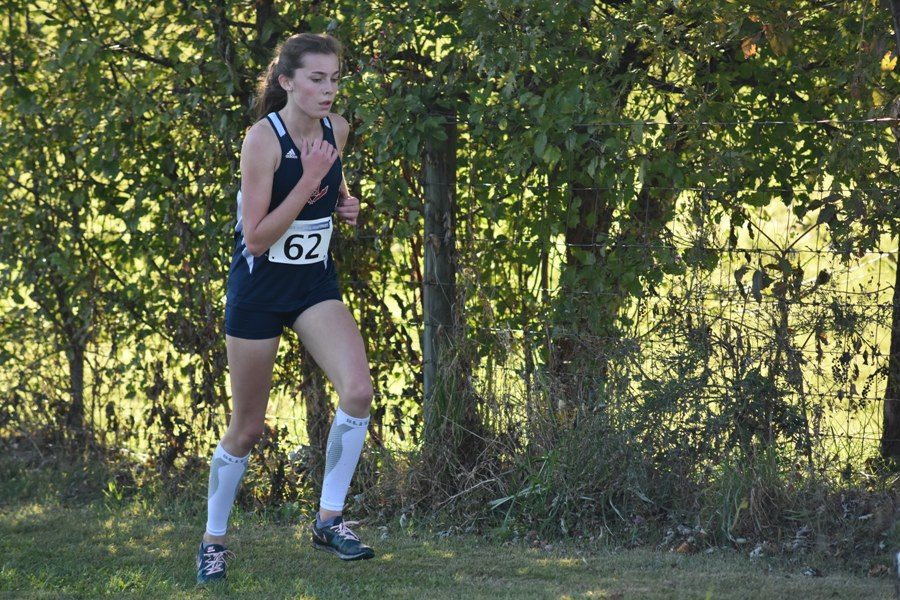 Holly Bill
The 5A Region D Championship marked a fitting end for the boys and girls varsity cross country teams. On Oct. 30, the Streaks competed against 11 other teams in the region for a spot at States. Top three teams advance, and both the girls and the boys teams placed sixth, so the Regional meet marked the end of most of the runners' season. Junior Kira Blagg placed 47th and was the fifth HHS girls runner. She is happy with her performance at Regionals.
"[It was a good ending to the season] because I was not expecting to do very well at this meet, but I did fine," Blagg said. "[I performed] pretty well, better than I thought. I was expecting it to be harder."
The race was held on the Streaks' home course at Burtner Farm. A notoriously hilly course, the weather prior to the meet also the made the path full of various mud pits. For freshman Micah Tongen, the course conditions were the hardest part.
"The course was really muddy and hilly, so it was pretty slow," Tongen said. "Pushing off was harder because it was muddy and wet."
Tongen placed 56th at the meet and was the fifth HHS runner to cross the finish line. His time was 20:48, which is better than he had expected and a time he is satisfied with.
"I'd say I performed pretty well because it was a pretty hard course and I ran an okay time," Tongen said.
Freshman Kate Kirwan also believes she ran well given the course. The second HHS girls runner, she placed 23rd overall and just missed the qualification for states.
"I think I did really well for the course," Kirwan said. "I think it would've been cool to qualify for states, but I was happy with how close I was as a freshman."
Top five individuals excluding the runners already going with their team qualify for the state meet. Senior Hannah Miller (third overall, second individual) and sophomore David Beck (18th overall, fifth individual) will be competing at the State Championships on Nov. 10 in The Plains. Head Coach of Boys Cross Country Matthew Denlinger will be guiding Beck in adjusting for the State meet.
"Running at the state meet is a different animal for sure. It's a lot different than any other meet that you're gonna run in because you're running against the best boys and girls in the entire state of Virginia," Denlinger said. "[I'll be] coaching him through some of the things he'll see out there and going over the course [to figure] out where we want to make our move in the race."
Overall, Denlinger is pleased with how the boys performed at Regionals.
"I think we performed as well as we could have," Denlinger said. "Everyone who ran at regionals last year placed higher at regionals this year, so we're moving in the right direction."
See full race results here.