Q&A with Gracy Bustillo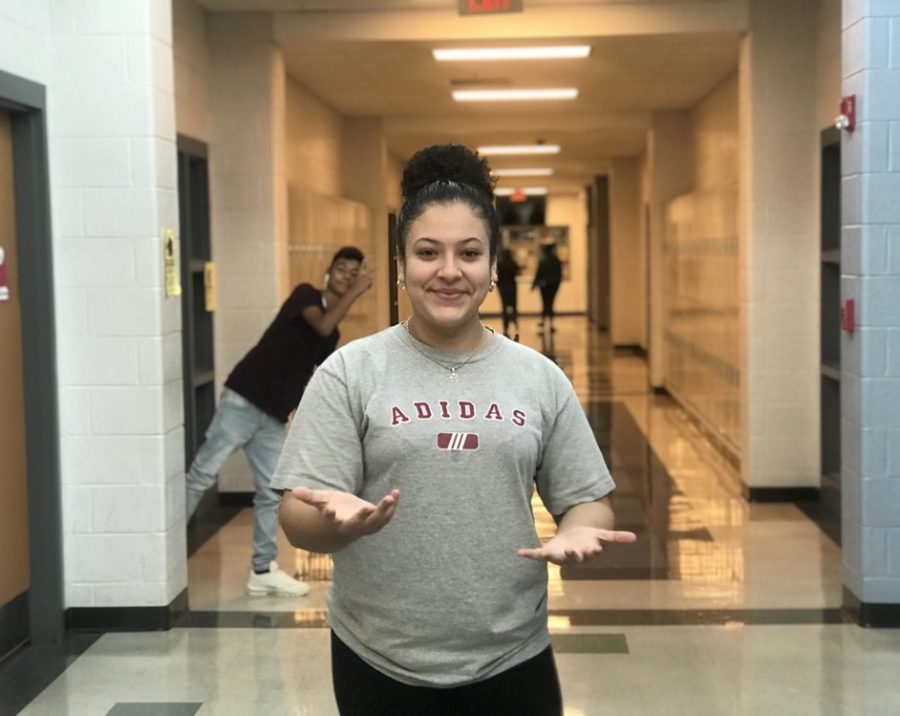 Q: What are three words you would use to describe yourself, and why?
A: "I would use funny because I always like jokes and I would also use risk taker because I always try new things, even if they end up not having the best consequence, I would [also] use explorer because I always like to go into new ideas and try new things.''
Q: What is the scariest thing you've ever done?
A: "The scariest thing I've ever done would have to be when I went on a walk late at night at about 2:30 a.m., and it was really scary because I was by myself.''
Q: What is your favorite part of high school?
A: "My favorite part of high school so far would have to be my electives.Pretty much just theatre. [HHS] just has a lot of things to offer that I am interested in. For example their improv and plays are really good.''
Q: What is your proudest achievement and how has it affected your life?
A: "One of my proudest achievements would have to be my writing SOL score from eighth grade which was a 596.''
Q: What do you do in your free time?
A: "In my free time, it just depends on the days. Some days I go outside, while other days I'll go inside and watch TV.''
Q: Where do see yourself in ten years?
A: "In ten years, I see myself in a successful position. I've always been very dedicated and I want to start off right now at a young ag. I would like to get a job and maybe in the future that will progress into something bigger, such as a business answer.''
Q: Are you allergic to any foods?
A- ''I am allergic to grapefruit. I found this out by eating it around the age of three. I get really patchy and itchy.''
Q- What does your daily routine consist of?
A: "A typical day in my life looks like waking up in the morning about an hour and thirty minutes before schools starts. Then, I do my morning routine, get to school and then when I leave school, I get home and do my homework around 6 p.m., eat dinner and then [later] after that it just depends what I feel like doing.''
Q: Who's your most influential person?
A: Someone that has greatly influenced my life would be my mom. She's always been a caring person, a hard working person and that's what I want to be someday.''
Q: What's your favorite movie?
A: "One of my favorite movies would be ''White Chicks'' because it's funny.''
Q: What's the weirdest food you've ever eaten?
A: "The weirdest food I've ever eaten would be artichoke. It was really weird because I had to suck on the leaf.''
Q: If you could live anywhere where would you live?
A: "I would live in Miami because it's very diverse and close to the beach."
Q: What's your biggest fear?
A: My biggest fear would have to be spiders.''
Q: Have you ever broken any bones or had any surgeries?
A: "I've gotten my tonsils removed and I've broken my wrist.''
Q: What about this year is different than last year?
A: "This year we have a lot of more cell phone freedom, last year it always had to be put away but you can have it out at lunch or in the hallways.''
Q: What's your earliest memory?
A: "My earliest memory is from when I was in Honduras and peeing in my bed. I was about three years old.''
Q: What's your biggest pet peeve?
A: "One of my biggest pet peeves is chapped lips.''
Q: What's the farthest you've ever been away from home?
A: "The furthest [I have] ever been away from home is Panama.''
Q: What's the hardest class you're taking this year?
A: "I think the hardest class I'm taking right now would have to be geometry. I'm expecting to pass it by always studying and never forgetting to do my homework, because it's some extra practice that will help me out.''