Miller gets started with Intro to Healthcare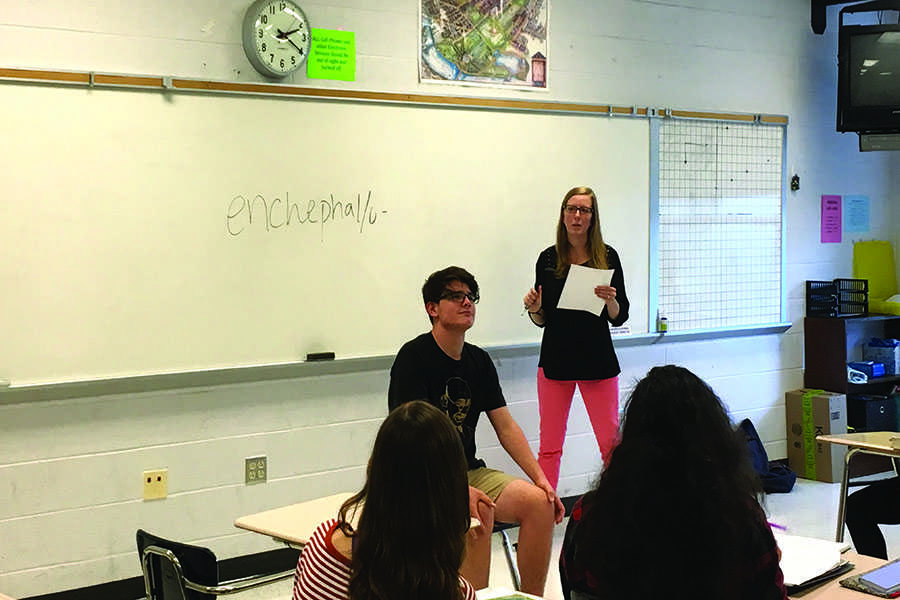 Wendy Miller is a part-time teacher who comes in 4th block on B days to teach the Intro to Healthcare class to the students who were accepted into the Governor's STEM Academy Healthcare Pathway.
Miller graduated from James Madison University with a bachelor's degree in nursing. She currently works part-time at Sentara RMH Medical Center in the emergency department. Being in the emergency department, she "sees pretty much everything."
Not only does Miller work as a part-time teacher here, but she also assists in the clinic. Miller is there to fill in whenever Nurse Angela is out and to provide a helping hand with the numerous students here at HHS.
Students who are accepted into the Healthcare Pathway of the STEM Academy take Intro to Healthcare their sophomore year. This class covers many subjects including medical terminology, anatomy, physiology and nutrition.
"They get to know a basic idea of what the healthcare system is and what kind of jobs exist in it," Miller said.
While there is a curriculum to go off of, Miller's class is unique in the sense that she is a nurse who can give the students real life examples from the ER. According to Miller, her students will learn many things that students in a typical chemistry, biology or anatomy class would not learn.
Right now, Miller's students just finished their medical terminology unit. Miller describes this as "the language of medicine."
Medical terminology is something that each of Miller's students will become very familiar with after the year is over. She believes that knowing a lot of medical terminology will help students apply for healthcare related jobs in the future.
"If they go into an interview for a smaller position while they're still in high school, they'll have some understanding and be able to use the terminology that maybe the person that's interviewing them knows," Miller said.
Miller describes her class as "an exploration into everything that is healthcare." This class gives students a peek inside what the medical field is like and will help you decide if healthcare is right for you.