Marching band performs in Veteran's Day Parade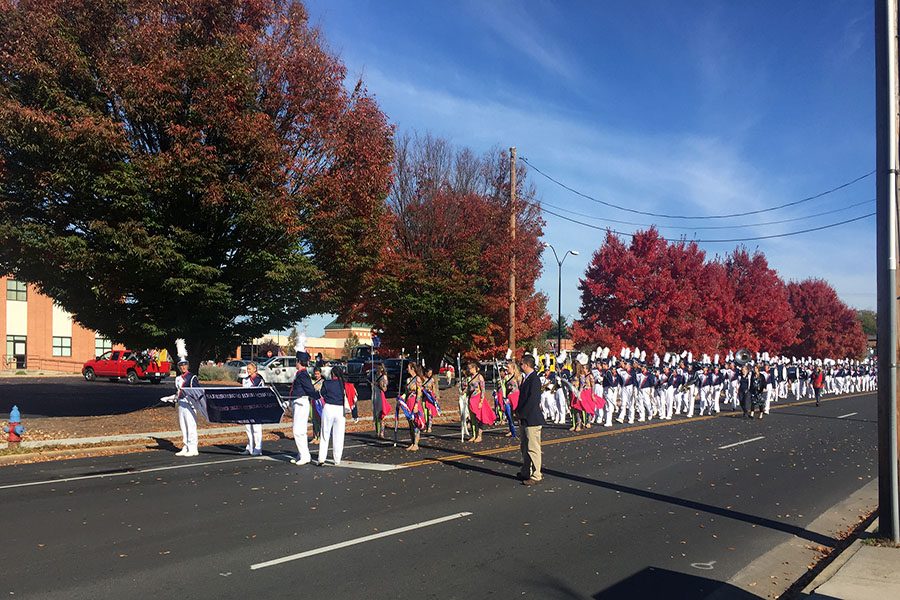 A tradition that strikes many, who have fought or have loved ones who have fought in the military, emotionally returned for its seventh year downtown. The marching band performed in the parade, as people sat along the streets. This is sophomore Jaden Graham's second year performing in the parade.
"I am excited to honor the veterans in this parade because they have done a lot for our country and I feel as if I owe them," Graham said. "We stayed after rehearsing music and marching for the parade. I practiced my marching technique."
Graham, along with senior Seth Bontrager, gets to carry the sign and lead the band down the streets.
"I play the electric base and I can't really march with an electrified instrument because it requires an amp," Graham said.
Band director Daniel Upton has prepared the band throughout the week of the parade.
"We started [rehearsing] on Tuesday, Wednesday, Thursday and went from 3:00 p.m. to 4:15 p.m. or 4:30 ish. Friday, before the game, we did a run through. We set up our parade block, marched around the parking lot a couple of times," Upton said. "With our competitive marching season ending, [the band] is marching it very fresh in their mind, so we don't have to worry about that too much."
Although they practiced, it wasn't tough for the band to complete, due to the fact they already had it in the back of their mind.
"We play the same arrangement every year. After freshman year you've done it before, so it'll come back to you," Upton said. "[We are performing] just a Veteran's Day Medley that has a lot of patriotic tunes put together. It was arranged by JR Snow back in 2011, when the band went to New York City for the New York City Veteran's Day Parade and we've continued playing it each year in our hometown parade."
Upton has set high expectations for the day and is looking forward to seeing the students appreciation to veterans.
"It's cool to recognize all of the veterans and honor them and for our students to be apart of that recognition in our community, both in the parade and in our concert, [which is] at 4:30 p.pm. this afternoon," Upton said. "[I am expecting an outcome to be] student's understanding the different roles that they take as a band member, whether it be [through] competing or recognizing our veterans or supporting our football team. It's another important aspect of what we do."